Written by More Matshediso
Deputy President David Mabuza says government is working hard to restore the dignity of all South Africans through the Land Reform Programme.
"As government, we want to restore human dignity. We must be at the forefront of transformation," the Deputy President said at a land handover ceremony in Seoding, Northern Cape, recently.
The GaMopedi and Seoding handover forms part of government's restitution and land reform programme, in line with the Constitution.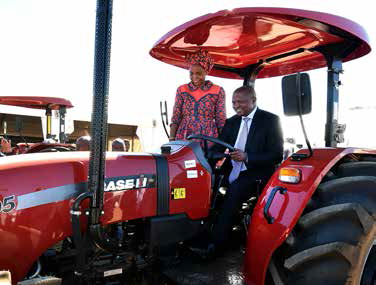 The beneficiaries include the Dukathole community, which consists of residents who moved to Germiston between 1920 and 1927 to look for job opportunities in the mining sector.
Both the GaMopedi and Seoding communities have received about 9 000 hectares of land, which will be used for agricultural production.
Community leader Atho Niemand said that it has been a long journey to this day.
"Some of the people with whom we started this journey are no longer alive. It would have been nice if they were here to witness this day, but we thank our government for finalising the process.
"We are going to use the land productively," Niemand said.
The handover comes at a time when the National Assembly is still dealing with a proposed amendment to the Constitution on expropriation of land without compensation.
The Draft Expropriation Bill was published on 21 December 2018 for public comment.
The restitution programme has provided redress to a large number of victims of land dispossession who lodged claims with the government.
Government is prioritising claims that were lodged no later than 31 December 1998 and are yet to be finalised.
The remaining backlog is primarily the result of competing claims that have been lodged or untraceable claimants.
Government has programmes to empower claimants to use land productively for job creation, food security and attracting young people to farming.