Written by Silusapho Nyanda
The community of Ermelo in Mpumalanga is elated with the refurbishment of the local Wesselton Primary School.
The school was handed over to the community after being upgraded as part of the Department of Basic Education's Accelerated School Infrastructure Delivery Initiative (ASIDI).
The objective of ASIDI is to eradicate the backlog in schools without water, sanitation and electricity and to replace those schools constructed from inappropriate material like mud. This is to contribute positively to learning and teaching.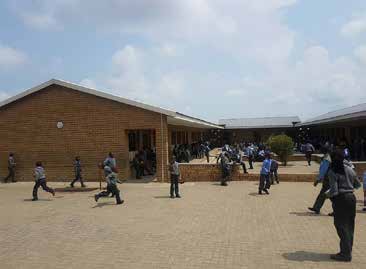 The refurbishments made at Wesselton Primary School  include a new computer centre, classrooms,  two specialised multi-purpose classrooms, science laboratory, three Grade R  classrooms,  hall, car parking lot, upgraded  water reticulation system and electricity supply.
The school received 10 tablets from a private donors.
Local resident Gugu Vilakazi, who has her grandchild Sandiso Dladla at the school, said that the equipment will help improve learning conditions.
"The new learning equipment will benefit us a great deal. The kids now are learning mathematics. Some parents, such as myself, cannot help with the maths problems they are given at schools. The new equipment will help them learn," Vilakazi said.
She said the equipment will also ensure that the pupils are exposed to the best education as the school has the latest in technological advancements.
School Principal Lillian Thusi told Vuk'uzenzele that the equipment received will ensure that the school delivered the best results.
Thusi said the school has come a long way.
"We started teaching in shacks. We had about 12 classrooms in that shack. We are coming from a very shameful situation but we tried by all means," said Thusi.
The school has 1 683 pupils from disadvantaged backgrounds that can now receive the best education.  
Did you know?
Since the inception of ASIDI in 2011 about 216 schools have been built and delivered across the country.
The ASIDI programme has also facilitated the provision of water to 836 schools, sanitation to 693 schools and electricity to 372 schools that previously had no access to these basic amenities.