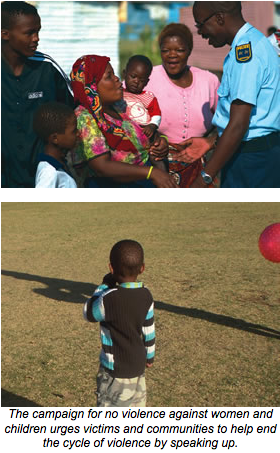 In South Africa, this year's campaign for no violence against women and children coincides with a drop in sexual offences reported from April 2009 to March 2010.
A total of 26 311 offenders were arrested during this period. This is thanks to the strengthening of specialised police units like the Family
Violence, Child Protection and Sexual Offences units. The units have specially trained police officers throughout the country.
Report crimes
Communities can also help to end the cycle of violence by speaking up and reporting gender violence.
Studies have shown that many crimes against women and children
are committed by people who know the victims. But victims and family members are often afraid to report such crimes for fear of more abuse, some even fear for their lives.
According to the Police, failure to report such crimes is a crime in itself.
Empower
This year's campaign focuses on victim empowerment. The aim is to enable victims to report crimes in privacy in a dignified and caring
environment.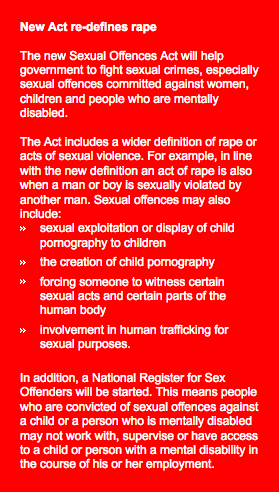 To help lessen the trauma of gender violence, Thuthuzela Care Centres have been started in all the provinces. This has improved
the process of reporting sexual offences and abuse, as well as prosecuting and convicting of perpetrators.
Shelters
In addition to Thuthuzela Care Centres, the Police in partnership with the private sector and non-governmental organisations, is working with the local Community Policing Forums to identify areas where shelters are needed for victims of abuse.
These will be safe places where victims can stay after reporting crimes instead of going back to face their abusers again.
-Mbulelo Baloyi