Youth


Uniting to shape the world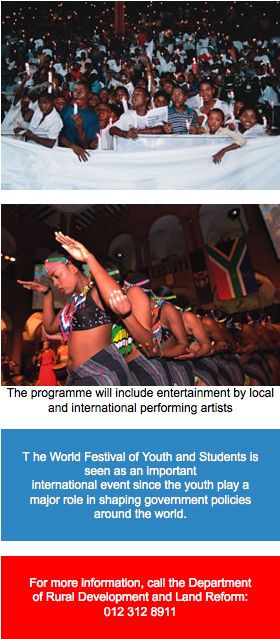 The World Festival of Youth and Students is the largest international youth gathering in the world. It takes place every four years in a different country and aims to unite the youth of the world for peace, solidarity and social transformation. It also seeks to create a world free of human rights abuses.
The opening and closing ceremonies of the festival will be held on 13 and 21 December respectively at Orlando Stadium in Soweto.
The festival is organised with the support of the World Federation for Democratic Youth (WFDY), which has members from 153 countries. Most of the past presidents and officials of this organisation are now leaders of government and industry in their respective countries.
NYDA
South Africa's National Youth Development Agency (NYDA) won the rights to host this event in South Africa through a bidding process. Countries were invited to make presentations in a process similar to that of the FIFA World Cup.
This year's event is expected to attract 30 000 delegates from the 153 member countries of WFDY, as well as presidents and ministers from various countries.
Challenges
Delegates will look at youth development and different challenges facing today's young people, including social, political and economic issues. It will look at ways to reduce unemployment among youth and to advance youth development through guidance and support from different sectors of society and government.
Legacy
As the host country for this event, it will also be an opportunity for South Africa to build on the spirit and legacy of the 2010 FIFA World Cup. It is a chance to continue to show the world that we are great hosts. It will promote our country as a tourist destination and continue to raise awareness internationally.
Entertainment
Arts, culture and sport activities will be presented daily at Mary Fitzgerald Square in central Johannesburg. This program will include concerts featuring local and international performing artists from all the regions represented by WFDY. It will include an international poetry and song contest, a young filmmaker's meeting, a soccer tournament with the message "scoring for friendship, solidarity and social transformation" and a marathon with the message "running for friendship, solidarity and social transformation".
Delegates will also participate in a march to Constitution Hill and explore themes of justice with a week-long "mock court."
- Samona Murugan