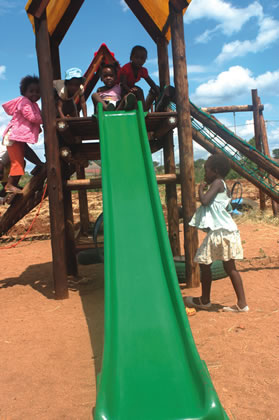 Today, Muyexe Village, neighbouring the Kruger National Park, boasts its own library, a post office, a 24-hour satellite police office and a well-equipped computer centre. A new R4,4 million multi-purpose sports centre that will cater for various sporting codes is planned for the future.
Houses
Muyexe Village also has its own community hall and 283 modern houses with electricity and water. Some 300 of the gardens are used to grow vegetables, which are sold to the local supermarket. Surplus produce is sold among the locals in the village.
In addition, the village has a fully operating clinic with four full-time professional nurses. The clinic provides primary healthcare for the community.
Common goal
The people of Muyexe owe their changed fortunes to government's Comprehensive Rural Development Programme developed by the Department of Rural Development and Land Reform.
Other government departments are also involved and work together towards a common goal to improve the lives of rural people.
Developments in Muyexe Village is proof that the programme has already lived up to its main objectives of enabling rural people to take control of their lives with government support.
Hope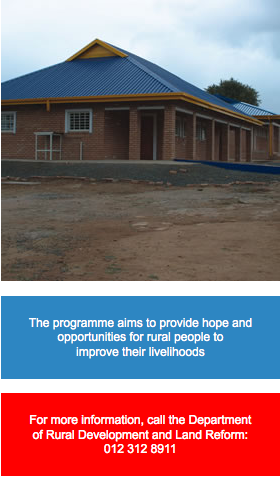 The project was launched last year in August as a pilot project in the Greater Giyani Municipality.
Its main purpose is to empower rural communities by providing hope and opportunities to improve their lives. This will discourage the ongoing movement of people from rural areas to urban areas in search of better opportunities.
At Muyexe, the local primary school and the local Hatlani High School have been renovated. In 2002, the Department of Social Development's National Development Agency provided funding for the Muyexe Early Childhood Development Centre to build a crèche for local children.
As part of its commitment to develop skills, the National Development Agency also funded the project with more than R1 million to improve the management skills of the people in charge of the Muyexe crèche.
Training
People furthermore received training in project and financial management, bookkeeping, basic computer skills and brick making. In addition, 11 youths received scholarships to study construction programmes for a year.
Funding was also used to build a bakery, buy bakery equipment and to pay the bakery employees.
- Mbulelo Baloyi