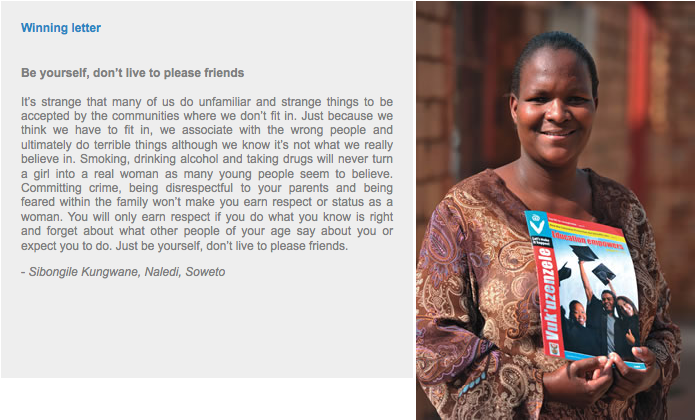 Proud to be myself
I am 23 years old and lost one of my legs as a result of cancer. When I was ill I was sure that my dreams were buried, but now I know being disabled is not a dead end. I am working at Lekwa-Teemane disability centre with other disabled people. I'm so proud to be myself and to walk with my two silver sticks. These sticks are my friends, they are magic and they help me around. I treat them with respect, they are my life.
– Khutsafalo Lydia Kgwele, Utlwanang, North West
Arm yourself with skills
The idea of a woman getting married to be supported by a man is finally gone. Women need to start looking after themselves, plan ahead, start a small business, be their own employers, and most of all arm themselves with education and skills. Unemployed mothers can attend ABET and then study by corresponding with colleges. Nobody can take your education; you have it for life. "Wafundisa umfazi, wafundisa isizwe" - you teach a woman, you teach the nation.
– Nomsa Makhaza, Rustenburg, North West
What the doctor ordered
The article "Her Positive Attitude Beat Disability" (Vuk'uzenzele July/August 2010) is just what the doctor ordered. I've always wanted to learn Sign Language to communicate with people with hearing disability. The Sign Language finger spelling alphabet you published will serve as my starting point to taking more lessons. Sign Language should have been enshrined when our official languages were chosen. More people whose work is to serve the people must at least know the basic Sign Language. In many companies the talented people with hearing disability are ignored simply because the authorities can't speak Sign Language. We must all realise that being deaf is not a handicap.
– Ephenia Moffat, Ga-Rankuwa, Gauteng
Real men don't rape
AIDS moves freely among us because of casual sex and rape. But a man who knows and respects himself has respect for life; he does not rape or have casual sex. A real man does not prove his manhood by forcing a girl to have sex with him. A real man is responsible, mature and considerate. He thinks before he acts. This message is also meant for ladies. Avoid risky situations like walking home alone at night. A woman who values her life does not put herself in danger. Stop inviting AIDS!
– Gomotsegang Mothibedi, Marokwaneng, North West
Learning is a privilege
Look at learning as an opportunity and a privilege rather than as a struggle. Today, most people think of education as a university degree, but there are many technically oriented courses such as nursing, fashion design, jewellery design and hotel training that give us the qualifications to do particular work. But no matter what your goals are, learning to use a computer and the Internet is essential for everyone.
– Richard Sello Chacha, Ottosdal, North West
Knowledge is power
Don't be afraid to reach out to something new even if you get negative results - remember that knowledge is power. Never quit, tighten your shoes, button your jackets and walk proudly in front of those who look down on you because tomorrow they won't find you there. Stop blaming others for your mistakes, keep travelling through that gravel road even if it is stony, you'll eventually reach your destiny, it is just around the corner.
– Ramoroka Chuene Salome, Ga-Mushi, Steiloop, Limpopo
The doors of learning are wide open
It is depressing to realize that many South African citizens are still illiterate in this period of freedom. The doors of learning are wide open - there's free and basic education for children and adults. There are learning centres out there and bursaries, scholarships and learnerships are available. You need a strong burning desire for your future to achieve good things in life. Time waits for no one; to go forward, you need a proper basic education.
– Choma CA, Ga-Mashaville, Limpopo
Have faith in your child
Our parents should try to support our dreams, not to live their lives through us as their children. We have our own dreams which we want to achieve, but how are we suppose to do that when our parents are against our dreams. It hurts children to know that they do not have their parent's support in achieving their dreams. Our parents also had dreams and tried to achieve them. We love and respect our parents, but we beg them to have faith in us.
– Emmah Ditshego, Brakpan, Gauteng
It's the police's duty
Two young boys were allegedly assaulted and beaten after members of the community accused them of stealing. The 15-year old was discharged from hospital, while his 17-year old friend remained in a bad condition. A resident heard that the boys had stolen his goods. To claim justice, he reported them to the police to be charged for crime. Instead, the man was charged for attempted murder. Taking the law into your own hands can get you arrested. It's the police's duty to apprehend the criminals.
– Ismail Foster, Newlands West, Durban