LETTERS TO THE EDITOR
GIVE US A PIECE OF YOUR MIND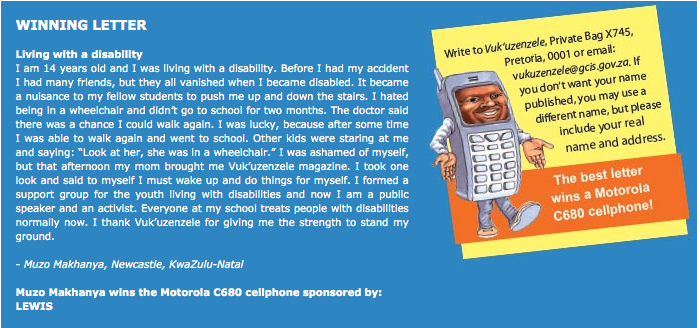 Teach them to dream big!
We find that with so much talk about Aids, it is all doom and gloom. Kids assume that they are going to end up HIV positive anyway, so why bother? They have given up on life. Rather treat your teens as individuals. Ask them: "What is really important for you in life?" And "What is going to help you achieve it?" When people have goals they will be more likely to avoid things that will prevent them from getting closer to that goal. It is the same for teens when they have special goals. So encourage your kids to have passions in life, to pursue the things that interest them, to have faith in themselves and chase their dreams. It might seem difficult if your child, for example, dreams to be a movie star. But as Lucas Radebe said, he came from Diepkloof in Soweto and people didn't think he would get anywhere. And look where he is today.
- Tshovhota Khubvi, Limpopo
---
Don't be destructive
I would like to appeal to some South Africans who always make it their business to damage public facilities like traffic signs and lights, public phones, bus stop shelters and public toilets to stop their mad and destructive behaviour. If we continue with this kind of behaviour we are going to chase foreign tourists away. And the economic boost that we all hope for during the 2010 Soccer World Cup will only be a dream. To the soccer fans who cannot take  kindly to the fact that their favourite team has been defeated in a match, please stop taking your frustrations and anger on the facilities provided at the stadiums. This will also scare soccer fans who may be coming to the country in 2010. As a 16-year old, I suggest that heavy penalties should be meted out by Government to those who break the law. We are the government and all these amenities belong to everyone.
- Aobakwe Patso Mosimanekgosi, Kuruman, Northern Cape
---
Listen to our voices
As community members we vote for other people to be our representatives, but they promise us things they cannot do. The Government is talking about Batho Pele, but our representatives are not acting responsibly. They want us to vote for them, but they don't perform their duties as expected by us the voters. Government is trying hard to make South Africa a better country, but there are places in Qwa- Qwa where there's still no electricity, proper houses or roads. Some of the money from Government to rebuild our communities is used to build temporary houses that are like tins. When it rains heavily they are flooded and people die. If our representatives don't do their work, let's tell them to wake up or report them to the Government. 
- Thabiso Ntsane Alex, Witsieshoek, Free State
---
Service please!
During the local elections people we§nt out in numbers to vote. After the elections we were promised good services, but in vain. In the townships the situation is getting worse. Nothing has improved. The worst problem is that whenever the people want services, they have to toyi-toyi, burn tyres and throw rubbish in the streets. Why do we have to toyi-toyi to make things happen? I appeal to councillors to improve the standard of our townships. Please render the service you promised. Think about the future of our children. 
- Sipho Vazi, Ezibeleni, Eastern Cape
Reply from the Chief Directorate, Policy and Research, Government Communications:
The issues you raise are very important. After the local government elections, each municipal district adopted what was called the 'fiveyear plan.' This plan listed all the services each municipality had to deliver. We advise you to find out who the local councillor in your area or ward is and tell him or her what your problems are. You can suggest to them what you think they should do to meet your delivery needs according to the five-year plan. They have promised to implement this plan which must make your life better.
---
None of us are losers
Vuk'uzenzele magazine prompted me to remind my fellow South Africans that no one is a loser unless he or she decides to be one. The main reason people see themselves as losers is laziness and a lack of patience. I would like to tell those who say "I have nothing in hand to start a business," you can start a business with a one rand coin, because the million you need may be hidden in that coin. You don't have to start something big; start a small thing and let it grow. You are not a loser, but a winner, therefore: Vuk'uzenzele! 
- George Agrippa Tshawe, Lusikisiki, Eastern Cape
---
Great performance!
The 2006 FIFA World Cup has come and gone. The presence of newcomers such as Togo, Ghana, Ivory Coast and Angola is a great achievement for African soccer. For a change, in Germany the world witnessed another side of Africa. Hopefully 2010 will produce other new faces like Botswana, Chad, Libya or Zambia. With the brilliant goals scored by the likes of Ghana's Sulley Muntari and Ivory Coast's Ibrahim Kone, no one should be surprised to see Sudan, Lesotho, Rwanda and Kenya side-lining the giants of African football like Nigeria, Cameroon, Senegal and Morocco, in 2010. If Germany 2006 was good, then come 2010 and Africa will show the world what a great spectacle is all about!
- Lehlohonolo S. Maduna, Vaal Triangle