Focus on the provinces: Western Cape


Helping to meet, basic needs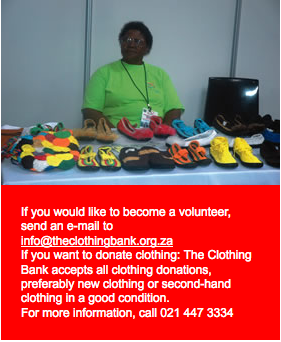 Clothing is a basic human need that many disadvantaged communities have a shortage of. In South Africa, there is an excess of clothing every year valued at between R200 to R900 million.
Donate
The Clothing Bank gets these clothes from retail stores, manufacturers, wholesalers and the general public who don't need them anymore. They are then sent to the warehouse in Cape Town, repaired and de-branded. This means all the brand-named labels are taken off.
The clothes are then sorted into different groupings to ensure that they are right for the different organisations that need them. They are then sent to non-profit organisations, welfare institutions and government services who identify the needs of communities. Clothes are also stored and used for disaster relief.
Unemployed women from poor communities, mostly single mothers, are increasingly at risk of being abused and deprived if they don't have the chance to improve their skills and become economically self-sufficient.
To help empower unemployed women, a lot of the clothing collected for the Clothing Bank is therefore used in the Enterprise Development Programme. It is a 12-month programme that benefits unemployed, single women who are selected to participate.
Training
To qualify for this programme the women have to be South African citizens, unemployed, mothers and single. Once selected, the women receive training for a total period of about 100 hours. Topics include personal financial literacy, enterprise development, life skills and industry-specific training.
The women then receive clothing every month at a discount price. They sell it in their communities for profit, which helps them to support their families and become financially self-sufficient.
As part of the programme, they must also work in the factory part time for a certain number of hours per month. This helps them to develop their skills by gaining work experience.
Jobs
After taking part in the Enterprise Development Programme for eight months, the women are assessed on their strengths and weaknesses. This serves to determine whether they are best suited to become self-employed or whether they should be assisted to find jobs in the formal sector.
– Samona Murugan