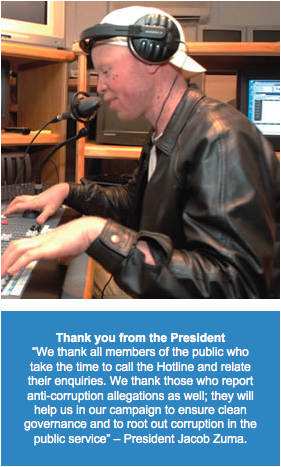 President Zuma has promised that his administration would do things differently and faster. The Presidential Hotline is one of the things he initiated to promote a government that is accessible, cares about its people and responds to complaints and queries from the public.
Main complaints
The main complaints received from the public relate to housing, employment, safety and security, water, electricity, citizenship issues such as access to identity documents and birth certificates, social grants, education and training, roads construction and maintenance, as well as health services.
Electricity bill
Many people have been helped through the Hotline. One such caller is Johannesburg resident and businesswoman Ms Jenene Beukes. Beukes could not believe her eyes when her business electricity bill showed she owed City Power a R100 000 for two months' electricity. Beukes realised that it was too high for two months and knew she could not afford to pay it. She repeatedly phoned City Power head office, but there was no reply from any of the numbers listed on her electricity bill.
Fearing that her electricity would be cut off, she phoned the Presidential Hotline and explained her problem. They found that her electricity account had been overcharged with R60 000. Beukes is happy to report that City Power later found the problem and subtracted the overcharged amount.
Compensation payment
A widow from Malimong outside Grobersdal in Limpopo had problems getting her late husband's compensation payment from the Department of Labour.
Ms Mahlodi Maila's husband died on duty in March 2007. She submitted a claim, but the Compensation Commission did not approve the claim.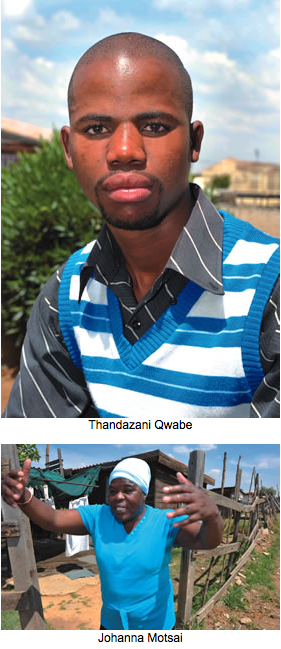 Maila was worried as the three-year period to file a claim was about to expire. Her brother, George Madiseng, then called the Presidential Hotline for help. In July this year, the Compensation Fund paid expenses for the funeral and other additional payments, as well as a monthly pension. Maila is now happy thanks to the Hotline staff.
ID document
A young KwaZulu-Natal man had almost given up on getting his identity document. Twenty-two-year old Thandazani Qwabe of Ladysmith first applied for his ID book in 2006 when he was in matric. When he went to collect the ID at the local Ladysmith Home Affairs office, officials said he had to re-apply for a new one. He re-applied in 2007.
When he went to collect his ID, he was told to check at the Dundee office of Home Affairs. His ID was not at the Dundee office and he was again told to re-apply or check at the Pomeroy office of Home Affairs.
He then decided to contact the Presidential Hotline for help. They arranged for Qwabe to apply for late registration of birth at the Alexandra office of Home Affairs and he finally got his ID in February this year.

Crime hotspot
Another caller, Ms Johanna Motsai of Phomolong in Tembisa, Gauteng complained about a crime hotspot near her home.
Motsai was worried about continuing incidents of theft of equipment
that had been installed by the municipality to prevent flooding when it rained. Hotline staff advised her to speak to her local councillor, but the incidents of theft continued.
Hotline staff then arranged a meeting between Motsai and the Rabie Ridge police station commander. Police increased their visibility by patrolling the crime hotspot. Motsai reports that since then, there has been no incidents of theft.
She found her child
Lindiwe Hlatshwayo from Watville, Benoni asked the Presidential Hotline to help her make contact with her child Nkululeko. The child had been taken away from her by social workers because he was sick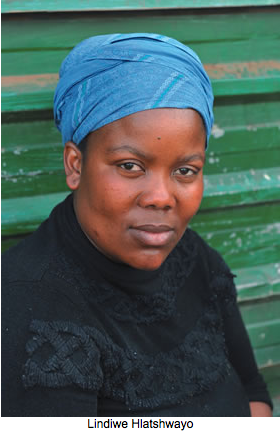 and placed at a children's home to receive care and treatment.
Before the child was placed in the children's home, he had been admitted at the OR Tambo Hospital for treatment. On discharge from the hospital, social workers told Hlatshwayo to hand over her child to them as she could not take care of him because she was too poor.
Hlatshwayo lodged a complaint at the Germiston offices of the Department of Social Welfare, but did not get any help from them. She then phoned the Hotline. As a result of their intervention, she is now allowed to visit her child and to spend two hours with him every second Saturday at the children's home.
- Mbulelo Baloyi