Focus on the provinces: Free State


Fish hatchery to create jobs, develop skills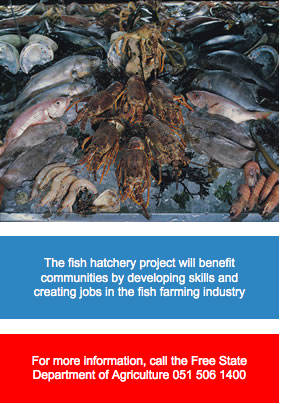 The new fish hatchery is built by the Free State Department of Agriculture in cooperation with the Chinese government. It will be known as the South African Agricultural Demonstration Centre.
The centre will start operating in February 2011 and will be used for production of different fish breeds, as well as for research, demonstrations and training purposes.
During the construction phase, the fish hatchery project has already created more than 100 employment opportunities for local people.
In addition, the Free State provincial government is working with the Chinese government in the development of fish farming among rural communities.
Training
As part of a poverty alleviation programme, local rural communities will be trained in fish farming. During the first three years, the Chinese will help with training communities, scientists, and fish farmers as part of an agreement to transfer skills to South Africans.
"This fish hatchery will be in production for more than 50 years and during this time more and more people will be trained in farming fish breeds such as catfish," said Free State Premier, Ace Magashule. "We hope that rural communities will form cooperatives and start fish farming projects so that they can earn a living thus beating poverty", the Premier said.
Employment
The national Department of Agriculture, Forestry and Fisheries is helping the Free State Department of Agriculture with the development of the fish farming industry, particularly abalone which is in demand in East Asian countries such as China.
Government aims to grow the fish farming industry to produce about 90 000 tonnes of different kinds of products including abalone and cat fish. This will help to create employment in rural areas. It will lead to more and more rural communities participating in the mainstream economy through possible export opportunities.
SADC region
The fish hatchery will be the biggest in the Southern African Development Community (SADC). Its services will be used by other provinces in South Africa, as well as by SADC countries.
- Mbulelo Baloyi