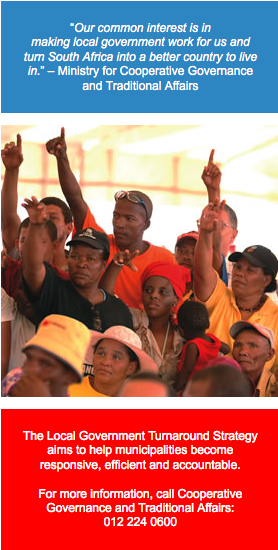 Government's turnaround plan to address service delivery problems is known as the Local Government Turnaround Strategy. The plan is run by the Department of Cooperative Governance and Traditional Affairs. Its main aim is to help municipalities bring much-needed services to their residents and to respond faster to complaints from residents. The plan also aims to restore the confidence of the majority of people in their municipalities.
At the end of September, the Minister of Cooperative Governance and Traditional Affairs, Sicelo Shiceka, signed a service delivery agreement to show his commitment towards carrying out the plan.
Objectives
The turnaround plan has five main objectives. They are to:
ensure that municipalities meet the basic needs of commnities
build clean, responsive and accountable local government
improve functionality, performance and professionalism in municipalities
improve national and provincial policy, support and supervision of local government
strengthen partnerships between local government, communities and civil society.
As part of efforts to make sure that all communities understand and support the turnaround plan, government translated it into all official languages. This also makes it more accessible to everyone who is responsible for putting the plan into practice.
Four phases
The plan is rolled in four phases. It started in January this year and will end in March 2011.
Phase 1 included provincial support teams visiting municipalities between January and February. They identified at least two municipalities in each province that needed the most urgent help from central government.
This was followed by Phase 2. It included the roll-out of turn-around plans at individual municipalities where there were urgent problems. The department also completed turnaround plans for all the other 283 municipalities in the country.
During August and September this year, all municipalities held ward meetings in every ward to find out which urgent needs had to be addressed in their wards.
Rate payers
As part of the turnaround plan, government will continue to engage on a local level with those rate payers who have stopped paying rates and services as a form of protest against poor service delivery. In addition, government is also planning a national engagement platform with rate payers.
- Mbulelo Baloyi