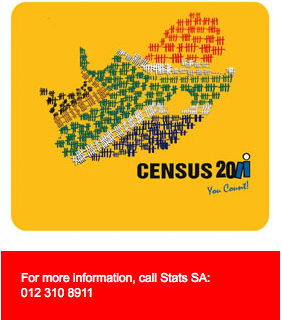 Census 2011 – the "Big Count" is the third census taking place since South Africa's democratic elections in 1994. It will be the biggest
census ever conducted in this country.
Statistics South Africa
Statistics South Africa (Stats SA) is the official organisation tasked with carrying out the counting of people on population census days.
A population census is needed to help government with planning, decision-making, monitoring and evaluation of programmes and policies.
Information collected during population census includes the population make-up of the country in terms of race, gender, age, skills, disabilities, etc.
Fieldworkers
Using the collected information, government and the private sector
are able to plan for things like education, healthcare, housing and transport.
To be able to reach as many people as possible on the census nights, more than 120 000 enumerators (fieldworkers) will be responsible for the actual count. This will cover more than 14 million households on 9 and 10 October 2011.
After these two dates, the census will continue until 31 October 2011. During this time, Stats SA enumerators will count people at institutions such as hospitals, prisons, tertiary institutions and hotels.
Practice run
To ensure that its systems and processes will work properly on the actual nights of the census, Stats SA conducted some dress rehearsals or practice runs for the Census between 10 and 12 October this year.
The aim of the Census 2011 practice runs was to test the systems
and processes. It was done at households in the 720 chosen enumeration areas.
All information given to enumerators will be confidential – it will not be shared with other research agencies or government structures.
Questionnaires
Enumerators will use three questionnaires during the census. The main questionnaire will be used on the census nights of 9 and 10 October for households.
The other questionnaires will be for people who are visitors or tourists at hotels or people who are about to leave the country at any of the ports of entry such as airports, border posts and harbours.
The third questionnaire is for people who will be in institutions
such as patients in hospitals, prisoners (both awaiting trial and those serving sentences), as well as students at tertiary institutions.
Identification
Members of the public will be able to identify Stats SA enumerators by the 2011 yellow bib, 2011 Census yellow cap, Census 2011 yellow
bag and Census 2011 identity document.
-Mbulelo Baloyi