Written by Samona Murugan
A year after adopting the National Strategic Plan for HIV and Aids 2012 to 2016, South Africa has made great strides in its efforts to combat HIV and Aids.
Ov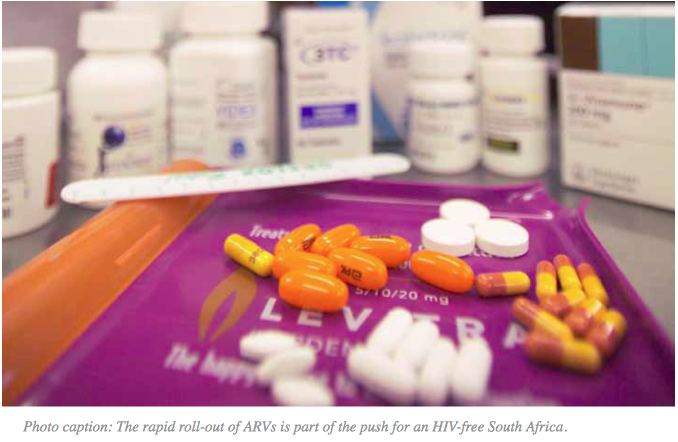 er the past financial year, the number of new patients placed on ARVs has increased drastically to 617 147, compared to the 418 677 who were on ARV treatment in 2010/11.
The number of people on HIV and Aids treatment stands at 1.7 million and it's growing. Mother-to-child infection rates have also reduced from around 10 per cent to 3.5 per cent nation- ally and some 20 million people who have been tested now know their status. The driving force behind the NSP for the next five years is its global theme, "Getting to Zero: Zero New Infections, Zero Discrimination, Zero Aids-related Deaths".
This theme focuses on universal access to treatment.
The Department of Health has been working tirelessly to uphold its commitment to the long- term vision of zero new HIV and TB infections through these projects.
For the long term though, the search is still on for a vaccine to treat HIV and Aids.
Discovery
Recently the Centre for the Aids Programme of Research in South Africa announced the discovery of a unique feature of HIV that enables infected people to make antibodies that are able to kill a wide range of the HIV strains.
This finding provides an important new approach that could prove useful in making an Aids vaccine. However, it will be some time before a vaccine can be produced. Responsible behaviour is the key weapon against HIV and Aids.
Male circumcision
Earlier this year Health Minister Aaron Motsoaledi announced that the department had set a target of 600 000 male circumcisions to be performed by the end of 2012. Circumcised men have less chance of contracting or spreading HIV than uncircumcised men.
"We are near reaching our target, thanks to KwaZulu-Natal who has overtaken every other province with the most circumcisions performed," said Minister Motsoaledi.
This World Aids Day, which is commemorated on 1 December, join government and take the zero challenge. Get tested and promote an HIV-free society.