Written by Samona Murugan
South Africa's biggest science fair, the Eskom Expo, has once again shown that our youth feel at home in laboratories. After 28 exciting and competitive regional finals countrywide, the grand finale of the Eskom Expo for Young Scientists was held at the Birchwood Hotel and Conference Centre in Johannesburg in October.
Currently in its 32nd year, the science fair has been a resounding success with 556 projects on display. In addition, learners and educators from countries like Lesotho, Nigeria, Ghana, Kenya and Mexico also participated.
The Eskom Expo, endorsed by the Department of Science and Technology, saw learners from 28 regions across the country discussing their work with professional scientists, judges, educators, learners from other schools, parents and other interested community members. It not only helps learners to increase their knowledge but also raises awareness of the wonders of science.
Winners
This year the overall winners were Sibongakonke Nxumalo and Snenhlanhla Sibiya from Dlangezwa High School in KwaZulu-Natal. The pair of Grade 11s developed a load shedding meter that regulates the supply of electricity in a household when the national power grid is under pressure. When the electricity supply comes under stress, the control unit (which is housed at Eskom power stations) sends a signal to the meter box to switch off everything using over 100 watts of electricity in the house. The user will then have to unplug everything consuming large amounts of electricity and their lights will go back on.
Nxumalo and Sibiya were motivated to in- vent the load shedding meter after electricity cuts interrupted their night study group at school. "We wanted to invent something that would not only help us but also the country because, as you know, we are facing a huge crisis with our electricity supply. We believe this project will help us learners, our com- munity and Eskom to put an end to power cuts," said Sibiya.
Medals
This year 69 gold medals, 156 silver and 202 bronze medals were handed out to the most outstanding projects. The Eskom Special Awards include the best development project, best energy project, best energy-efficiency project, best female project, and best rural high and primary school projects.
All winners received a laptop and the overall winners walked away with a trip to an international science fair related to their project and fi of interest. Nxumalo and Sibiya also won the Eskom Best Development Project Award and their school will receive a mobile science kit valued at R34 000.
The Eskom Best Energy Efficiency Project Award went to Matthew Keevy and Sonke Mkhabela from Pretoria Boys High School. The Grade 11 learners designed a programme to save the electricity consumed by streetlights and lights on highways using light and movement sensors.
The duo calculated that these sensors could cut energy usage by 42 per cent. "We want to take our project further by presenting our idea and the results of our findings to the City Council and prove that Grade 11s can make a difference in our country. If I win, it will prove that I am capable of becoming an engineer," said Mkhabela.
The Eskom Best Energy Project Award was won by Tave Verhoef from Howick High School in KwaZulu-Natal for her project entitled "Maglev Train". She looked at how Maglev trains work using the principle of magnetic polarity.
The Eskom Best Female Project Award went to Grade 7 learner Iselle van den Heever from Fichardtpark Primary School in Bloemfontein. Her project looked at how the planets orbit the sun.
Enterprising spirit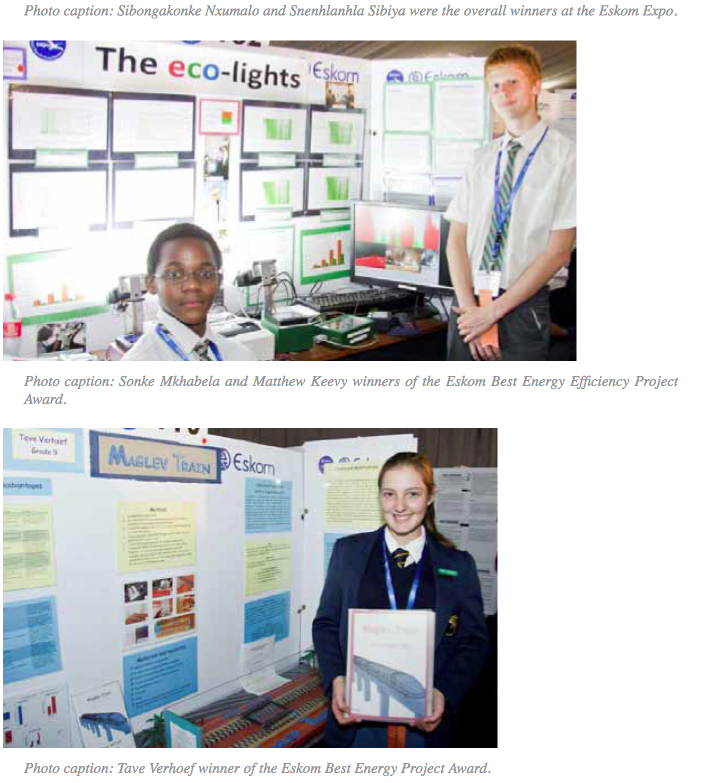 Eskom CEO Brian Dames commended the youth for their enterprising spirit. "For me the Eskom Expo is really about celebrating what's good in South Africa and it gave me great satisfaction to see these young learners with such energy and enthusiasm. It gives me great hope about the future of our country," he said.
Eskom has invested more than R400 million per year in supporting external mathematics, science and technology initiatives by providing bursaries, training, skills development and tertiary education support with more than 4 000 learners benefitting from these initiatives to date.
The Eskom Expo is South Africa's biggest science fair for learners and attracts entrants from schools across the country with over 468 schools participating this year.
It not only exposes learners to the exciting world of science, but it also opens their eyes to the many career opportunities in science, technology, engineering, mathematics and innovation (STEMI). By actively encouraging the youth of South Africa to pursue STEMI careers, Eskom aims to address the country's shortage of skills in the field of science.
Minister of Science and Technology Derek Hanekom described the expo as, "the premium exhibition of creative minds at work at a school level"
"There is an abundance of talent among learners in this country, far greater than I ever imagined and the Eskom Expo gives me vision and hope for our country," he said.