Written by *Melitah Madiba and Khanya Sigcau
You should not wear dark clothes when walking on the road at night," the actor said. "Why not?", responded the young man with a puzzled look on his face. "Because we are losing friends, brothers andsisters daily due to road accidents," the actor replied.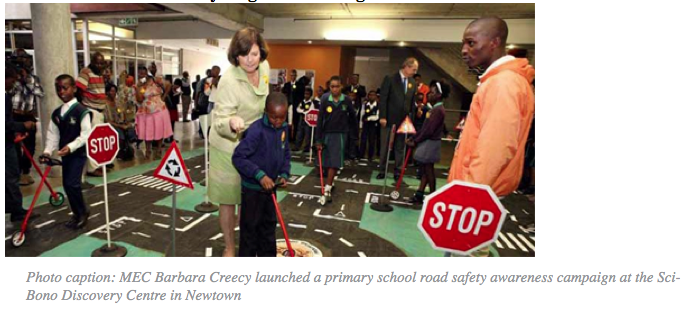 This was not a play at the Market Theatre, but a sketch by learners at the launch of a road safety awareness campaign for primary school learners in Gauteng at the Sci-Bono Discovery Centre in Newtown, Johannesburg, recently.
Fewer deaths
The campaign is the work of the Gauteng Department of Education (GDE), the Gauteng Department of Community Safety, the City of Joburg's Transport Department, 3M (a protective gear company) and the Sci-Bono Discovery Centre.
The programme, which will run at Sci-Bono daily and schools throughout Gauteng, is expected to reduce the number of fatalities on the roads by teaching learners to understand and obey the rules of the road through interactive and practical programmes.
Gauteng MEC for Education, Barbara Creecy, said although the GDE had done a lot to ensure the safety of learners through fencing of the schools and the introduction of safety patrollers, it was also vital to extend safety outside school premises.
Safer taxis
"We are very concerned about the number of children who are injured or killed on their way to schools. Statistics show that an alarming 65 per cent of people killed on the roads are pedestrians. Half of these road fatalities are children under the age of 15.
With this programme, we hope to reduce these numbers," Creecy said.
She added that the department was also working tirelessly to make sure that scholar transport taxis were dropping children off at safe places.
With the programme, learners are involved in fun activities such as a road safety drama called Qaphela. It entails a facilitated session on a road safety mat, as well as other exciting and educational activities related to road safety.
*Melitah Madiba and Khanya Sigcau work for Gauteng Office of the Premier.