Written by *Clayson Monyela
International relations
From January 2013 South Africa will serve a three-year term as a member of the Economic and Social Council (ECOSOC) of the United Nations (UN).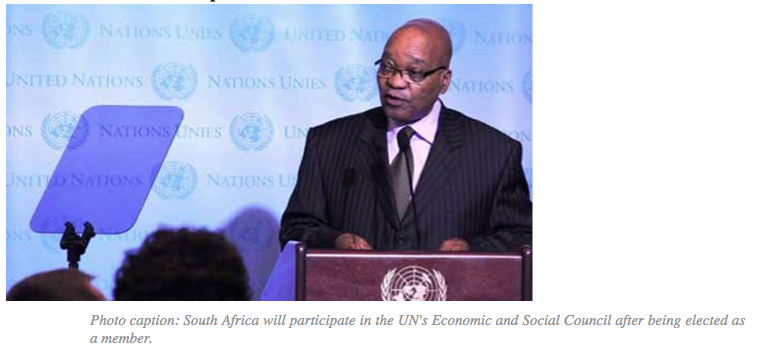 ECOSOC is a central forum for discussing economic, human rights, health, social and cultural issues at the UN.
It consists of 54 members elected by the UN General Assembly. ECOSOC also drives the development agenda of the UN.
"It is significant that South Africa will be a member of this critical organ of the UN at a time when the target date for the achievement of the Millennium Development Goals (MDGs) is fast approaching, namely 2015," the Department of International Relations and Cooperation (Dirco) said.
South Africa's election to ECOSOC comes as the country ends its two-year non-permanent membership on the UN Security Council.
South Africa last served on ECOSOC from 2004 to 2006. According to Dirco, South Africa will use its membership of ECOSOC to lobby for the strengthening and reform of the body. "It will provide an opportunity to be located at the centre of the debate on the global development agenda, including the acceleration of the implementation of the MDGs. South Africa will also use its membership to promote the African agenda and the general developmental interest of Africa," Dirco added.
Functional commissions of ECOSOC are the:
Commission on Social Development
Commission on Population Development
Commission on Sustainable  Development
Commission on the Status of Women
Commission on Statistics
Commission on Crime Prevention and Criminal Justice
Commission on Science and Technology for Development
UN Forum on Forests.
Dirco will be the coordinating and focal point on South Africa's engagement and participation in ECOSOC.
*Clayson Monyela is Deputy Director-General at the Department of International Relations and Cooperation.