Written by *Refeliwe Mphane
Youth matters
The National Youth Development Agency (NYDA) was so impressed by the work done by an exceptional community upliftment initiative that it pledged R400 000 towards it.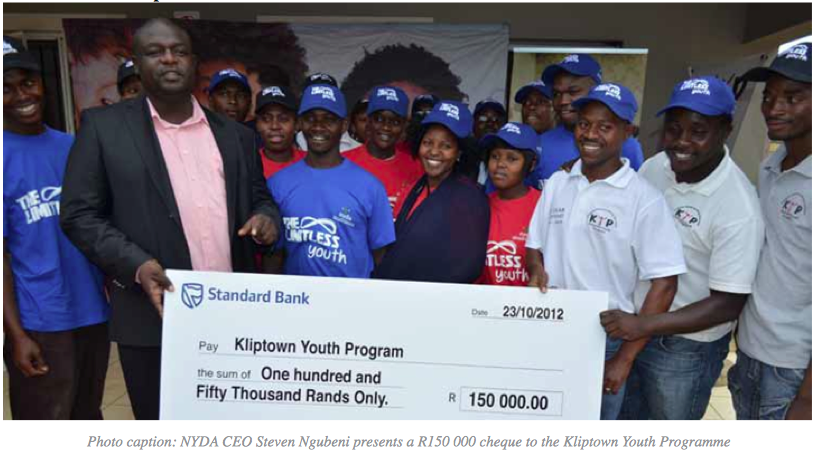 The Kliptown Youth Programme (KYP) headed by 30-year-old Thulani Madondo, has been nominated for the annual CNN Heroes and profiled earlier this year on CNN. CNN's global audience nominate 10 everyday heroes around the world each year. Madondo co-founded the KYP after identifying the need to provide a means to inspire and change lives in the troubled Soweto community.
Through education, KYP's mission is to eradicate poverty of mind, body, and soul and to improve the lives of the disadvantaged Kliptown children by providing them with educational support and after-school activities.
"The NYDA is always on the look-out for initiatives that live out our Limitless Youth slogan," said CEO Steven Ngubeni.
Limitless youth
"This initiative is the perfect description of what our Limitless Youth campaign is all about so we've decided to pledge R150 000 cash towards the Kliptown Youth Programme. R50 000 will go towards a special advertising campaign calling all South Africans and Africans to vote for Thulani.
"The NYDA training and development programmes will offer R200 000 worth of services," Ngubeni added.
The Limitless Youth initiative, which is supported by over 6 000 NYDA Twitter followers, was launched by the NYDA in April to encourage the youth of South Africa to have a 'limitless' mindset.
"The key messages that we are conveying to the youth of South Africa is that their potential far outweighs their limitations and that their current challenging circumstances do not have to define their future," said Ngubeni.
However, he emphasised that the onus was on the youth to get up every day and take hold of the opportunities offered to them by not only the NYDA, but also by organisations in the private, public and civil sectors.
The ultimate CNN Hero of the Year will be decided in December, when the winner will be honoured at a tribute show hosted in Los Angeles. One of the top 10 finalists will be named CNN Hero of the Year and receive US$250 000 (R2.2 million) to continue with their work.
* Refeliwe Mphane works for the NYDA.
To learn more about the Kliptown Youth Programme visit

www.kliptownyouthprogram

. org.za and to pledge funds and other resources towards this initiative, contact Thulani Madondo on 011 528 8670 or send an e-mail to kliptownyouthprogram@gmail.com.