Youth matters
Grade 11 pupil Sibongile Xaba had ambitions of becoming a doctor but wasn't sure where the money to further her studies would come from.
With these concerns at the back of her mind, Xaba recently visited the Youth Expo in Alexandra,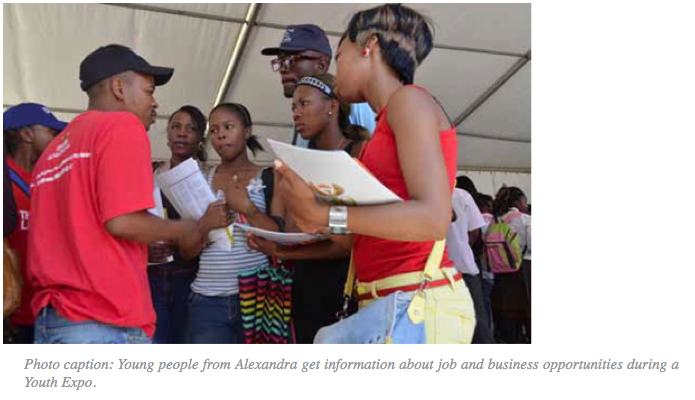 Gauteng, which was hosted by the National Youth Development Agency (NYDA) and the office of Deputy Minister for Performance Monitoring and Evaluation, Obed Bapela.
Xaba found information about bursaries, learnerships and other opportunities being offered to the youth – information that meant a little less stress and more hope for the future. "Now I know there are places I can go to for help and that has given me hope. I know that when I finish school I will have opportunities even if I don't have money," the Minerva High School pupil said.
Hope
The expo also gave hope to fellow Alexandra resident Thabiso Kgasoame, who dropped out of school in Grade 11. He currently works in the retail industry but his dream is to open his own business.
"I want to manufacture match boxes but I've been struggling to get funding for this business," he said.
Kgasoame was more optimistic after viewing exhibitions at the expo. "I've been told that the NYDA offers help for youth like me who want to start their own business. I spoke to them and it sounds promising," he said.
Motivate and inspire
The expo was aimed at bringing programmes, products and services of the private and public sectors, civil society and related institutions closer to the youth of Alexandra, with a specific focus on education and entrepreneurship opportunities.
It also brought the local youth face-to-face with a number of celebrities, including TV presenters, actors and music stars.
Bapela said that the intention was to motivate and inspire the youngsters.
"They must continue to have dreams and hopes. All the people they are seeing on TV, all the leaders, they all came from humble beginnings but worked hard to make something of themselves. Our message is that these young people can do the same," he said.
Hard work
The expo was also aimed at introducing the Young people from Alexandra get information about job and business opportunities during a Youth Expo. NYDA to youth and to make them aware of how they could use the NYDA for their benefit, the Deputy Minister added.
He stressed the importance of education, saying no matter where the youngsters found themselves in the future, they would always need an education to fall back on.
Deputy Minister Bapela urged the youth to focus on their studies, dream big and work hard to achieve those dreams.
Opportunity providers
NYDA CEO Steven Ngubeni said the agency wanted to educate Alexandra youth, specifically those who didn't have the means to visit the offices in Johannesburg and Midrand, about the NYDA and the services if offered.
A number of "opportunity providers", including government departments and non-government organisations, exhibited at the expo, he pointed out.
"We are empowering the youth of Alexandra with information. We are targeting youngsters who are still at a school-going age because we want them to be motivated and to know that there are all these opportunities waiting for them once they finish school," Ngubeni added.
Contact the NYDA on 080 052 5252 for visit the website – www.nyda.gov.za