The South African Police Service (SAPS) will be out in force this festive season, patrolling all tourist destinations and prioritising robberies, cash-in-transit heists and ATM bombings.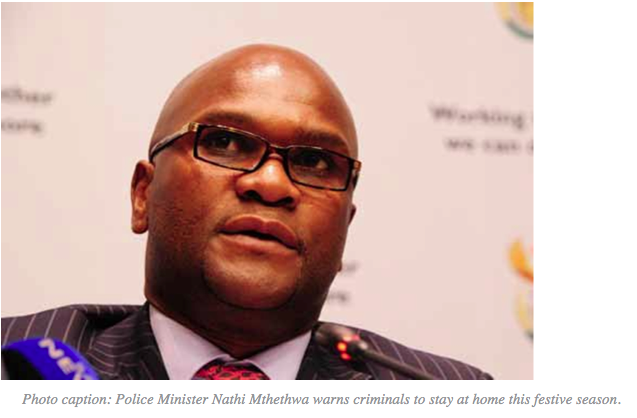 Special attention will also be given to preventing social crimes such as murder, rape and crimes against women, children and the elderly, as well as house and business robberies, said Minister of Police Nathi Mthethwa at the launch of the festive season plan.
The plan - "Safer Festive Season: Operation Duty Calls" - started in September and will continue until March 2013.
Partner with Police
The minister said: "Our main objective is to call upon all South Africans to partner with the police in fighting the scourge of crime. This year's operations will build upon the previous year's lessons and successes. We will also increase high-visibility patrols at all tourist destinations especially in the coastal cities." During the festive season, crime levels tend to go up owing to high levels of spending among consumers and an increased consumption of alcohol.
Drug trade
Speaking at the launch of the plan in Jane Furse, Limpopo, Minister Mthethwa said: "The drug trade and its associated problems continue to grow in most parts of the world, primarily because global abuse and accessibility of drugs has become increasingly complex, as trafficking routes have become shorter, more diverse and more easily traversed."  He added that police would also continue with the fight against piracy. "As part of the broader fight against crime during last year's festive season, we launched the Anti-Piracy and Counterfeit Goods Campaign."
This campaign is led by the police in partnership with the departments of Trade and Industry and Home Affairs, the South African Revenue Service, the National Prosecuting Authority, the Southern African Federation Against Theft, the Recording Industry of South Africa Films, the Publications Board and artists who are direct victims of piracy.
Minister Mthethwa also called on communities to support police in fighting crime.
Safe and secure
Limpopo's Safety, Security and Liaison MEC Florence Radzilani said different law enforcement agencies in the province would all play a role in ensuring a safe festive season.
Limpopo Police Commissioner Lieutenant-General Simon Mpembe said that with the expected influx of people into the province, police had plans in place to keep residents and visitors safe and secure.
He said the province had already made several arrests of wanted suspects in the past few weeks and destroyed more than 6 000 firearms, most of which were confiscated during operations and arrests.
Police in Limpopo will target areas that have a history of contact crimes, while officials from the South African Revenue Service and the Liquor Board will visit liquor outlets.
Police in the province received 14 BMWs to use in their fight against crime. Mpembe said police would be everywhere during the festive season.
"This festive period in Limpopo, criminals will certainly feel uncomfortable and unwanted as police will go out in full force to ensure a safe, secure and happy season for all its citizens," said Mpembe.
High police visibility
The commissioner assured residents that police officers in the province had pledged their commitment to make Limpopo safer over the festive season. He said the community could expect high police visibility. There will be mobile roadblocks coupled with stop-and-searches and other crime prevention activities.
Meanwhile, officials in the City of Cape Town will be on high alert for any person breaking the law during the festive season.
Chief of Cape Town Metro Police Wayne Le Roux said they are ready to deal with increasing crime levels during the holidays.
Integrated operations
"The message is clear; one death is one too many. This is in line with the City Of Cape Town Safer and Caring City. We will be having joint integrated operations with the South African Police Service and other role-players such as traffic and law enforcement agencies," Le Roux said.
"Our focus will be on drug houses especially council rental stock, stop and searches and roadblocks, strong emphasis on drunken driving and un-roadworthy vehicles," he added.
There will be a zero tolerance policy for people taking liquor to the beaches, Le Roux warned. "There will be roadblocks, visible policing, bobbies-on-the-beat and strong covert operations near ATMs, where people could be robbed," he added. Le Roux said the operation would continue until the Easter period.
Avoid unsafe situations
Although law enforcement agencies will do everything in their power to ensure a safe festive season, people are urged not to expose themselves to crime. This includes staying away from isolated areas, especially when alone at night and drawing money at ATMs, not carrying expensive items and avoiding unsafe hitch-hiking.