Written by *Mfundo Magaba
Residents of Thembalethu in George recently had an opportunity to raise their concerns in person with Minister of Social Development Bathabile Dlamini. For one young mother this was a particularly special occasion, as she was served by the Minister in the new office and her grant application was approved.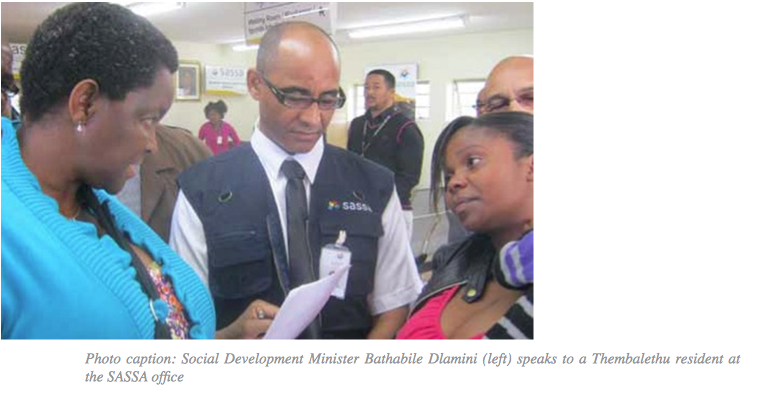 Gathering at the new South African Social Security Agency (SASSA) offices in Thembalethu, community members also received food parcels from the Minister.
Taking time to open the new SASSA office at the local Thusong Centre during her Community Dialogue visit, Minister Dlamini urged the community to take care of and respect the new facility. She also asked community members to report SASSA staff who did not serve them with courtesy.
Respect the elderly
Encouraging them to look after the elderly, Minister Dlamini said, "Some of you neglect the elderly and only pretend to care when they have to receive their pension grant. This is totally unacceptable, you take advantage of these old people mainly because they can't report you."
Residents used the opportunity to raise issues with the minister and unscrupulous micro lenders seemed to be the major problem. Community members accused the loan sharks of operating right next to the pension pay point to demand payment from people
who had just received their grants.
People also raised concerns about delinquency among youngsters. Unemployed youth end-up getting involved in drugs and substance abuse and young girls fall pregnant. The local municipality was also accused of corruption in the tendering of Early Childhood Development (ECD) centres in the area. Youth accused the local authorities of not considering the black communities when it came to internship programmes in the area. The issue of land and housing was also raised.
Use opportunities
After consultations with community, Minister Dlamini challenged the youth to stop folding their arms and to start using opportunities offered by government through initiatives such as internships and bursaries. "People are always complaining that we as government are not doing anything whereas your children are not using the opportunities that we present to them. We have FET colleges, why are your kids not there? People should wake up and do something and not only expect things to come to their door-step," said the Minister.
Regarding the ECD centres, the Minister said she had not heard the allegations of corruption before. "I can tell you now that government contributes R15 per child in ECD and also it is the responsibility of local government to build the structure and look after it." She promised to take up this matter and other local issues with the provincial authorities.
Unemployed youth who passed matric with exemption and wanted to pursue a career in social welfare were called to the podium and their details were recorded.
* Mfundo Magaba works for the GCIS Parliamentary Office.