The Deputy Minister of Public Works, Jeremy Cronin, accompanied by his counterpart from Higher Education and  Training,  Mduduzi  Manana, honoured 14 young professionals who participated in the 2012 Department of Public Works Young Professionals Programme in Pretoria.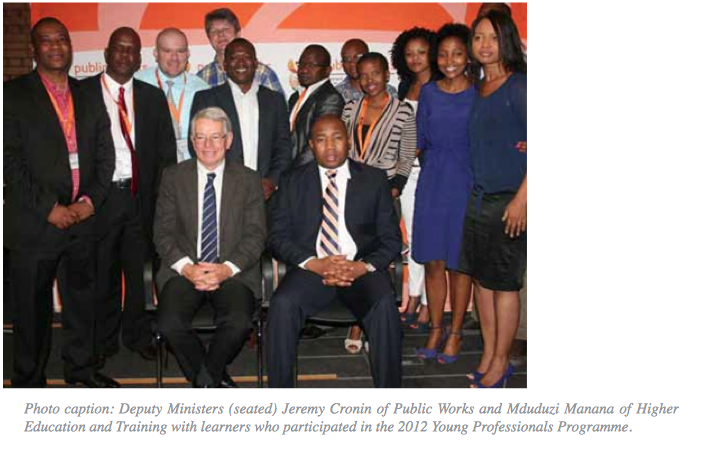 Speaking at the event, Deputy Minister Cronin said the programme was an important initiative of the department, aimed at giving young professionals in the built environment opportunities to enter the job market and contribute to the economy.
Fourteen youngsters were absorbed into the programme and placed in various projects of the department with a mentor supervising each of them.
They ranged from quantity surveyors, planners, architects and architectural technologists.
Closing the skills gap
Deputy Minister Cronin added that the programme was aimed at closing the skills gap to help create a healthier economy.
"The Young Professional Programme will help us address the massive skills shortage. We live in a country that has massive inequalities and a high proportion of poverty. We look up to young professionals to undo this reality ... "Also, this initiative contributes to the president's call to address, train and develop young people in these scarce fields as part of current and future infrastructure developments. You are already helping the department with site clearance. We are currently saving a lot of money because of your contribution," he said.
After completing the programme, the participants can register with councils in the built environment and get registration numbers that will allow them to start practicing as professionals in various fields in the built environment.
Proud and happy
Edwin Tebeila, 28, from Mamelodi said he was very proud and happy to have participated in the programme.
Before joining the programme he was unemployed for three years even though he completed a degree in Architectural Technology.
"I'm very grateful to the department for coming to us with such an initiative, because I have been sitting at home without a job. Now I've got a chance to get a registration number and a job and contribute to the economy," he said.
After completing the programme, the graduates are absorbed into the various projects by the department or they look for jobs themselves.
Deputy Minister Cronin urged the learners to work closely with the Council for the Built Environment (CBE) in an attempt to improve the programme.
"The CBE needs to work with you and you should all tell us where the bottle necks are and their nature. Together we should build a socially oriented infrastructure programme," he concluded.