Written by Chris Bathembu
Infrastructure development
Government will soon roll out a massive infrastructure programme estimated to cost more than R4 trillion over the next 15 years.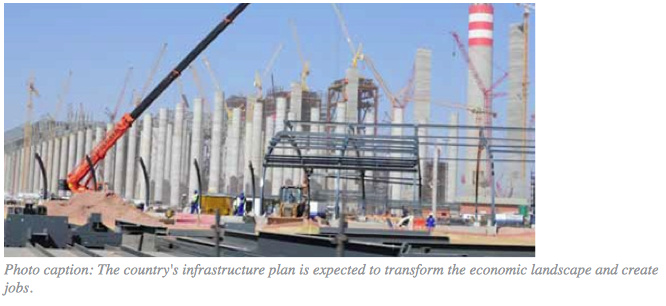 President Jacob Zuma recently invited the private sector to invest in the country's infrastrucure plan that is intended to transform South Africa's economic landscape and create a significant number of new jobs, while strengthening the delivery of basic services.
"This year we decided to single out infra- structure for special focus … our view is that infrastructure development is a catalyst to sustainable economic development and to the improvement of the quality of life of our people in a most fundamental way," said President Zuma during an Infrastructure Development Summit recently.
Business leaders
Business leaders from different sectors of the economy attended the summit, as they were identified as crucial stakeholders to forge partnerships with government to enhance the implementation of the country's long-term National Infrastructure Plan. The conference was organised by the Presidential Infrastructure Coordinating Commission (PICC) - a body established to coordinate the long term infrastructure build programmes.
The Infrastructure Plan is expected to guide the construction of new infrastructure, while speeding up current projects that support economic growth. It proposes 18 strategic integrated projects (SIPs) covering rail, road and ports, dams, irrigation systems, sanitation and energy.
Government will contribute R844 billion of the R1.3 trillion needed for the projects in the short term. About R4 trillion is expected to be spent over the next 15 years. Director-General in the Presidency Dr Cassius Lubisi told Vuk'uzenzele that some of South Africa's infrastructure was old and could not support economic growth.
"For instance in rail, we have begun a process of saying let us replace our trains because of their age and we will do this where necessary." Lubisi said government needed to do things differently to address infrastructure shortages. "Clearly you do require to fast track the way in which decision making occurs with regard to infrastructure building. Otherwise if we do it in the old, slow sense, we won't go as fast as we wish to," he said.
Schools
The 18 SIPs will make it easy for authorities to identify where interventions are needed, he added.
Under SIP 13, for example, government wants to speed up the building of new schools in line with the Accelerated School Infrastructure Delivery Initiative (ASIDI). The ASIDI aims to supplement provincial school infrastructure programmes, as well as eradicate all mud schools.
About 190 schools were provided with electricity, 237 schools with sanitation and 173 schools with water. The construction value is approximately R675 million. In the 2012/13 to 2013/14 financial years the ASIDI aims to replace 100 inappropriate schools with new schools, provide 714 schools with electricity, 514 schools with sanitation and 1069 schools with water.
Rural Development and Land Reform Minister Gugile Nkwinti said the PICC undertook an exercise to identify infrastructure gaps in South Africa and started identifying the 18 SIPS as part of addressing this shortage.
Water needs
"Each SIP will speak to each sector of the economy be it in road transport, rail, education or health and ... all of this should lead to development and job creation," Nkwinti said at the conference.
Work has already started on some of the projects while others are still at the planning stage. Those already approved include the expansion of the Port of Ngqura in Port Elizabeth, the Dube Trade Port in Durban and the Lesotho Highlands Water Project - a bulk water supply agreement between South Africa and Lesotho. The project is Africa's largest water transfer project and the largest ongoing bi-national construction project on the continent. It is aimed at addressing Gauteng's water needs since this rapidly expanding province needs more water than its main source, the Vaal River, can provide.
Coal and platinum
In Mpumalanga and Limpopo the focus will be on mining which will include coal, platinum and other minerals for local use, as well as export.
An additional rail capacity will shift coal from road to rail in Mpumalanga with positive environmental and social benefits.
Investment opportunities were identified in the North West and they cut across roads, rail, bulk water, water treatment and transmission infrastructure. Government believes this will result in reliable supply, meet basic social needs and facilitate the further development of mining, agricultural activities and tourism opportunities.