Until 2010, Nomfazwe Cwanyiswa was an unemployed, unskilled mother of 13, who lived in poverty in one of the many impoverished and underdeveloped areas of the Eastern Cape.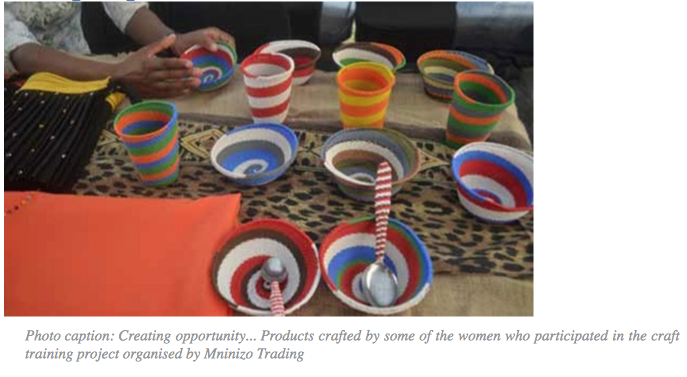 But Cwanyiswa's life changed after she completed a training course in arts and crafts with Mninizo Trading in the Mhlontlo Local Municipality. She now uses skills to generate an income to support her family.
Cwanyiswa is one of the many beneficiaries of the arts and craft training project run by Mninizo Trading, which is owned by Robert Sibisi and his wife Nomusa.
Poverty relief
During the past 10 years the company has pro- vided more than 1 000 unemployed villagers with opportunities for self-employment. The project is funded by the Department of Rural Development and Land Reform.
It has trained 870 people in KwaZulu-Natal, the Eastern Cape, Mpumalanga and Limpopo, specifically in Comprehensive Rural Development Programme (CRDP) sites, such as Msinga, Mhlontlo, Mkhondo and Muyexe.
Apart from developing skills, the training has also created direct job opportunities for some participants who were selected to become trainers. They were paid R300 a day for the 10-day training programme.
In his 2011 Budget Speech in Parliament, Minister of Rural Development and Land Reform Gugile Nkwinti noted the impact of Nomusa Sibisi's project on poverty relief. "She has been training rural and small-town people in craft across the country, with the department paying for her travelling costs, accommodation and training materials," Minister Nkwinti said, noting that the strength of the programme was that she did not train people without a market for their products.
Youth with disabilities
The department plans to contract her to train participants in the National Rural Youth Service Corps, especially youth with disabilities to help them acquire skills to start their own craft-related enterprises.
The training includes the use of different materials such as beads, discarded telephone wire strings and ilala palm leaves for weaving. The training also addresses other aspects of running a business such as customer care, pricing and costing, sales recording and stock control.
Products generated from the training courses have been well received at exhibitions at the African Image in Cape Town, the Gateway Theatre of Shopping in Durban and the Rand Easter Show in Johannesburg. Owing to their high quality, many of the items are sold in various curio shops and shops at national parks.
For more information call the Department of Rural Development and Land Reform at tel. 012 312 9300.