The Department of Agriculture, Forestry and Fisheries has set a target of establishing 15 000 smallholder producers, with a particular focus on women in rural areas who have displayed enterprising abilities through the sale of their produce.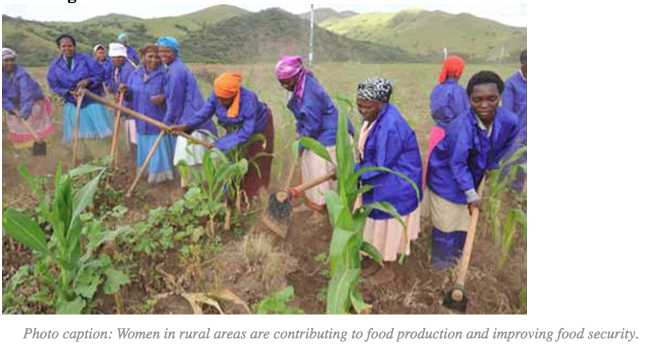 Commemorating International Rural Women's Day recently, Agriculture, Forestry and Fisheries Minister Tina Joemat-Pettersson urged the nation to celebrate the determination of rural women in their contribution to food production and improving food security to stamp out hunger and rural poverty.
To build on this foundation and to achieve development that has multiple spill-over effects that deepen and expand wealth creation, creating jobs and addressing rural economic development challenges, the department has undertaken multi-stakeholder engagements to link producers with the markets," she said.
Women at the forefront
International Rural Women's Day was established by the United Nations General Assembly in recognition of the critical role and contribution of rural women including indigenous women, in enhancing agricultural and rural development, improving food security and eradicating rural poverty.
Minister Joemat-Pettersson said in these tight economic times, rural women were at the forefront of ensuring that their families and communities received a supply of food produced from smallholdings, mostly using indigenous technologies.
She said the department identified employment creation through support for small-holders and processors in agriculture, forestry and fisheries as one of its contributory components in rural and agrarian reform.
"To produce food that is affordable, nutritious and enough for the country, requires supporting policies that are focused on areas of high challenges and at the same time, has the greatest potential. In this regard, a focus on rural communities and especially rural women and further investing in what they have has already started," she said.
Small-scale fishing
Women in rural areas adopt specific strategies to deal with challenges of food security in these times of high food prices. Women are known to become the buffer for their families in any difficult situation, particularly in times of food pressures, the minister noted.
For communities, particularly women along the rural coastal regions, the Small-Scale Fishing Policy will enable improved livelihoods and food security from the marine resources.
"For this purpose the department recognises that the allocation of rights is only a part of the process. The policy will make it possible for small-scale fi hers to develop and uplift themselves, contributing to the eradication of poverty, ensuring food security and promoting equity without endangering ecological sustainability," she said.
The minister said a community orientation approach would be followed in ensuring the responsible use of natural resources.
For the marginalised, she said the process would include re-establishing the culture and capability to live through the use of the land and marine resources with strategic linkages to grow and access markets.
"Through support for smallholders and processors, we will be able to evaluate the extent to which our policies have created jobs, food security and sustainable livelihoods," she said.