written by Hloni Motloung
Local government
The arrival of more people in the City of Johannesburg seeking economic opportunities puts pressure on the electrical infrastructure of the City.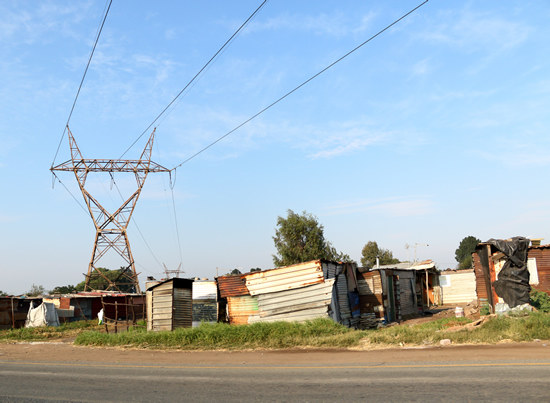 Statistics show that 10 000 migrants arrive in the City every month from different parts of the country and the continent to seek better economic opportunities.
Currently, there are 181 informal settlements across Johannesburg with an estimated 180 000 households and a combined population exceeding 500 000.
According to City Power Managing Director Sicelo Xulu informal settlements account for 13 percent of power losses in Johannesburg as a result of illegal electricity connections.
City Power is an agency of the City of Johannesburg.
As part of the a bigger picture to formalise informal settlements, the City has been installing independent power grids and using an energy hybrid mix of solar power and gas stoves at Setjwetla, near Alexandra, in Region E and Thembelihle and Lawley Station in Region G.
The electrification of informal settlements aims to stop unnecessary electrocutions, restore people's dignity, regularise power supply and prevent the loss of revenue caused by illegal connections.
During the winter season, "Since 2013, City Power has exceeded its targets of 2 000 new connections each year." residents living in informal settlements often lose their lives in devastating fires caused by hazardous cooking and heating appliances.
"The electrification of these settlements will ensure that communities are saved from these tragic incidents and will also help reduce incidents of crime that happens because of the previous lack of efficient lighting."
 Xulu said the project will also help to reduce illegal electricity connections and assist in preventing load-shedding. City Power has electrified 17 675 households located in 10 communities in rural areas. Since 2013, City Power has exceeded its targets of 2 000 new connections each year.
The provision of reliable public lighting contributes towards safety in communities. City Power says it is proud to have commissioned a total of 25 744 public lights in Joburg and the City's informal settlements.
The utility has also developed a free load-limiting mobile app, aimed at providing residents with a convenient solution to inform residents about load-limiting schedules.
The load-limiting app also allows residents to turn off unnecessary appliances from wherever they are, whether at work, university or while out and about. The app works on most cell phones with Android and iOS software. 
*Hloni Motloung works for City Power.