Written by Galoome Shopane
After years of surviving without a Home Affairs office, the community of Thaba Nchu in the Mangaung Metropolitan Municipality now has a reason to smile again. This is after the Home Affairs office in the rural area was reopened.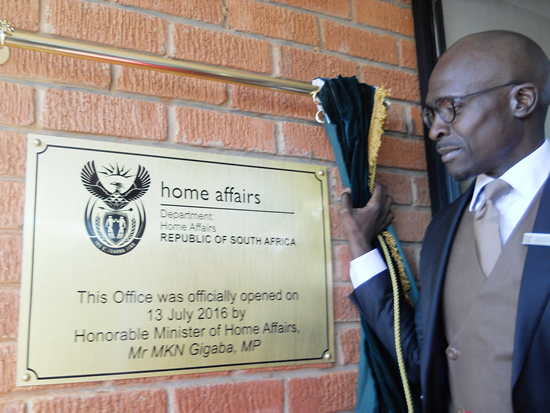 Speaking at the official opening, Minister of Home Affairs Malusi Gigaba said his department provides essential services. 
"The significance of this office is that it brings services closer to the people, especially those who are in the outlying areas. Many of our people are unemployed and rely on social grants, therefore the closer we can get to them, the better for us," said Minister Gigaba.
Praising Home Affairs officials, the Minister said that they are beginning to understand the message that he has been communicating.
"The message is to serve our people to the best of your ability, professionally, efficiently and with respect. This is government as it should be," he said.
He added that the compliments his department gets are thanks to his dedicated officials.
The Department of Home Affairs has to date opened offices in the Eastern Cape, KwaZulu-Natal and the Free State.
Minister Gigaba called on provincial departments of Public Works to assist the Department of Home Affairs with physical infrastructure to increase the department's footprint in the country.
MEC for Public Works in the Free State, Dora Kotzee said it was important for government departments to work together.
"Working with other departments and stakeholders, this is proof of the effectiveness and efficiency of good inter-governmental relations between all organs of the state," said MEC Kotzee during the opening.
Resident Alisa Seepamore (78) was grateful for the new office. "We used to struggle because we had to travel to other towns to access a Home Affairs office but now I'm happy."