Minister Dipuo Peters is the Minister of Transport, a position she has held since July 2013.
About the Minister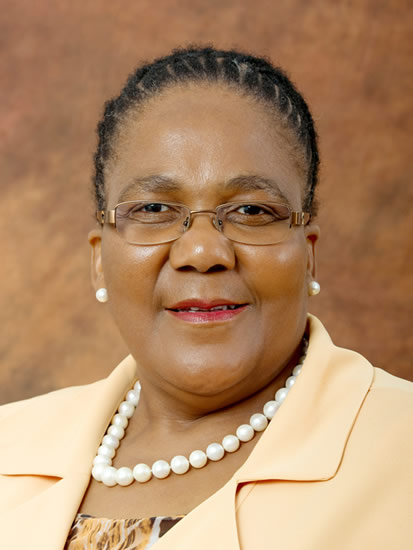 Minister Peters hails from Kimberley, in the Northern Cape, where she underwent schooling at Tidimalo Junior Secondary and Tshireleco Senior Secondary School.
She obtained a Bachelors' Degree in Social Work from the then University of the North and a Certificate in Development and Public Policy from the University of the Western Cape. She also obtained a Certificate in Executive Management from the University of Cape Town's Graduate School of Business and a Certificate in International Policy Management from Havana, Cuba.
Minister Peters served in the National Assembly between 1994 and 1997, serving in the Parliamentary Portfolio Committees of Home Affairs, Public Works, Social Services and Health. In 1997, Minister Peters was redeployed to the Northern Cape Provincial Legislature, executing the duties of Chief Whip until 1999.
Minister Peters also served as the Northern Cape MEC for Health from 1999 to 2004, spearheading among others, the revitalisation of the Kimberley Hospital Complex and overseeing the extension of primary healthcare and maternal health services in the Northern Cape.
In 2004, she was appointed to serve as Premier of the Northern Cape until May 2009, before being appointed Minister of Energy.
About the Department
The Department of Transport is responsible for spearheading the development of integrated efficient transport systems by creating a framework of sustainable policies, regulations and implementable models to support government strategies for economic, social and international development.