Advice & Events
In an effort to lessen the effects of natural disasters caused by climate change, more than 25 000 delegates from all over the world will meet at an international conference called COP 17 in Durban from 28 November to 9 December.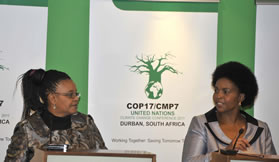 COP 17 is short for the 17th Conference of Parties to the United Nations Framework Convention on Climate Change (UNFCCC). The South African Government is the official host of the COP 17 conference.
Natural disasters
Natural disasters have resulted in hundreds of lives being lost with infrastructures such as homes, roads, hospitals and factories being destroyed. These disasters have taken the form of earthquakes, floods, hurricanes, tsunamis, drought, rising sea levels and unusually hot weather conditions.
Awareness
To create awareness among the wider public about the dangers of climate change, government has started various education programmes. These include provincial awareness summits about the forthcoming conference.
The awareness campaign also includes the Climate Train, which will travel across South Africa.
Organised by the Department of Environmental Affairs, the Climate Train will carry a team of experts who will educate communities along the way until it reaches Durban. It will stop at cities and towns in each province including Port Elizabeth, George, Cape Town, Beaufort West, De Aar, Kimberley, Bloemfontein, Klerksdorp, Potchefstroom, Krugers-dorp, Musina, Makhado, Polokwane, Pretoria, Johannesburg, Vereeniging, Kroonstad and Ladysmith.
Open to all
Once in Durban, the team will continue to educate people through exhibitions, classes and talks.
There will also be tours of the exhibition outside the Inkosi Albert Luthuli International Convention Centre where the conference will be held. Tours and classes will be open to all including schools and tour groups.
For more information, call the Department of Environmental Affairs on 086 111 2468.