Meeting the standards for the National Health Insurance (NHI) system is an important priority at the Dr George Mukhari Hospital in Ga-Rankuwa near Pretoria. A lot has already been done to comply with the core standards, but there are still gaps that need attention.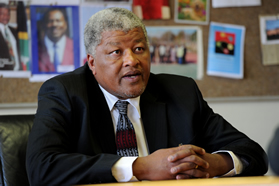 The implementation of the NHI system is getting closer and the only talk at Dr George Mukhari Hospital is of meeting the requirements to be approved for the system.
"Our future depends on meeting those standards and if we don't, we might as well close down the institution," says hospital CEO, Dr Trevor Fisher.
He is confident that during the final assessments, the hospital will comply in the important areas. A new hospital building is expected to be completed by 2016.
Tool for improvement
Hospitals gearing up for the NHI will be expected to maintain specific quality standards which include improving cleanliness, patient and staff safety and security, infection prevention and control, the availability of medicines, reducing waiting times, and creating a positive and caring attitude among health workers.
The core standards serve as a tool to improve the quality of healthcare at hospitals rather than punishing them, said Dr Fisher. Dr George Mukhari Hospital was among the 800 health facilities assessed by July to see whether they complied with the standards. 
Good progress
Dr Fisher said the assessments showed that good progress had been made at the hospital, which scored A, B and C symbols in some areas. However, he pointed out that there were still gaps, which needed to be addressed for the final assessments.
He said the hospital was now in the process of putting all the necessary systems in place to meet the standards. They are also making sure that all the different departments are aware of the importance of meeting the core standards, including behaviour towards patients.
Back to basics
The Dr George Mukhari Hospital services communities from Garankuwa, Mabopane, Soshanguve and Wintervelt. It has 1 600 beds, 3 200 staff members attending to over 1 000 patients per day and delivers about 10 000 babies per year.
"If we want to get it right with the NHI, we must first look at building clinics and getting the staff back to basics. If the hospital are still overcrowded, this means that we didn't spend enough on primary healthcare or if people don't get the required treatment at the clinics, it means we've failed," Fisher said.