Police stations all over South Africa are becoming more victim-friendly through the Victim Empowerment Programme.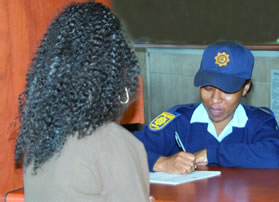 From rape victims to abused women and children, those with no roof over their heads and even desperate parents, Aaron Maepa and Philda Setshedi have heard and seen it all.
The two are social workers who volunteer at the Pretoria Central Police Station's Victim Empowerment Programme to counsel and help victims of crime.
Police officers send crime victims who need help to the volunteers who are based  at the police station's victim friendly room (VFR). This is a relaxed environment, which helps to calm the victims and make them feel secure while Setshedi and Maepa try to help.
Place of safety
Police Ministry spokesman Zweli Mnisi said that often police were the first people to come in contact with traumatised victims. "The purpose of the VFR is therefore to ensure that all traumatised victims of crime are treated with dignity and respect with the necessary confidentiality in a private environment," he said.
The walls of the VFR are painted in bold colours with rainbows, clouds, and animals reassuring victims, especially children, that this a place of safety. In one corner, small chairs and a table with toys, colouring books and crayons have been arranged to keep children occupied.
Apart from the main room which contains sofas, a TV, fridge and microwave oven, there is also a bedroom in case victims need to stay over.
"Some women can't go home because they are abused by a boyfriend or husband. If they come to the police station at night they can stay here until the morning when we make other arrangements. We often put them in contact with shelters and help them find somewhere to stay," Setshedi said.
Plans are in place for all police stations to have victim friendly rooms by 2014.
Women and children
The social workers deal mostly with women and children who are victims of rape, abuse or domestic violence. "We talk to them, ask them what the problem is, what they need, and then we try and help," said Setshedi.
Maepa said when dealing with children, the first step was to let them know that they are in a safe environment. "We get them to relax, give them toys to play with and then encourage them to talk about what's happened to them."
Apart from victims of crime, Maepa and Setshedi have helped runaway children reunite with their parents and assist those who have trouble getting their identity documents or social grants.
Victim support
Victims are interviewed in the VFRs, their statements are taken and where necessary, are referred to professional social workers or health workers for support.
There are currently 900 VFRs across the country. While most are at police stations, some are situated at local Family, Violence and Child
Protection Units, railway stations and airports. Plans are in place for all police stations to have VFRs by 2014.
For more information about victim-friendly rooms, contact your local police station.