International relations
Some 12 million people in Somalia face hunger and starvation. Five regions of south-central Somalia where scores of people, mostly children, are dying of starvation, have been declared famine zones after the worst drought in years dried up the region over the past several months.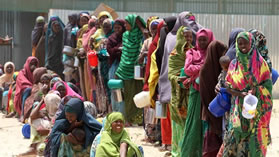 Apart from the long drought, a civil war has also gripped the country for several years. This has forced more than a million people to flee their homes due to extreme violence across the country.
Food and skills
Together with aid organsations such as the Gift of the Givers, South Africa, through President Jacob Zuma's Comprehensive Strategy for Somalia, has committed R8 million to assist Somalians.
This contribution does not only include food. Assistance will also be given in the form of helping to bring about social and political stability through development programmes. These will include skills training and building up government institutions, as well as sharing experiences of peace-building.
Government has also made available a military aircraft for Gift of the Givers. They have delivered several tonnes of essential food and anti-malaria medication to Mogadishu.
Gift of the Givers, which has a team of helpers including doctors and specialists, has been in and out of Somalia where they have set up a hospital to help sick and injured people. They distributed high-energy nutrition packages to the region in July and are preparing to send more aid by flight and boat in the future.
Heartbreak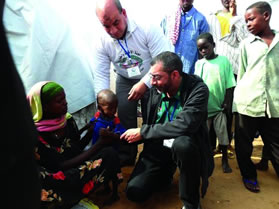 Founding member of the organisation, Imtiaz Sooliman, said the situation in Somalia was horrifying. He said there was a shortage of food and water as well as a lack of medical facilities, doctors, nurses and medical supplies.
Somali mothers are so under-nourished that they are unable to produce breast milk and two-year old children look like three-month old infants because of hunger, he said. Other diseases like malaria and pneumonia are common. "It was heartbreaking. Children are dying slowly. Parents watch their children die and can't do a thing about it."
Brothers and sisters
Sooliman said that although businesses had responded to the call in cash and kind such as donating funds to rent aircraft, they hoped that more people would get involved so that more lives could be saved.
He said Africa should lead efforts to help Somalia, because "…they are our brothers and sisters. We need to save lives and to provide high-energy supplements, medicine, medical teams and food. We need to put up tents. If people can provide cash, even if it is a small amount ... this is Africa and these are our people. They need our assistance".
Anyone wishing to help Somalia through donating to the Gift of the Givers can call them on 0800 786 911.