Ms Joyce Tshabalala (49) is a mother of two who's got a hungry boiler to feed. An employee of the Gauteng Department of Infrastructure Development, she grasped the opportunity to be an assistant boiler operator for Chris Hani Baragwanath Hospital in 2002.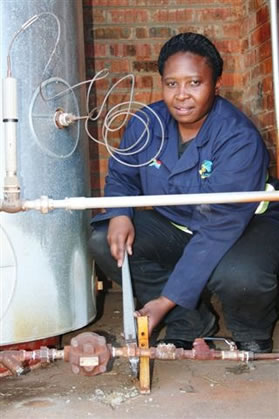 Inspired to learn more about her field, she furthered her training and became a qualified boiler operator in 2004. Ms Tshabalala is a beneficiary of the department's Expanded Public Works Programme (EPWP).
Passion
Her passion for her work flared as much as the coal that burns in the boilers, which provide essential steam used by almost every ward, theatre, kitchen and laundry at the hospital. "The boilers remain the most important section at a hospital," she says.
She is constantly mindful that her work is the heart of the hospital. "Without steam, babies in the neonatal ward will suffer, so will their mothers and all other patients," she adds.
Developing women
According to MEC for the Gauteng Department of Infrastructure Development, Mr Bheki Nkosi, "Our mandate as the Department of Infrastructure Development places us in the position in which we become not just the custodians of public infrastructure in Gauteng, but also the chief social agent for job creation and skills development …"
In this regard, the development of women and their access to opportunities is one of the department's key priorities. This includes doing away with stereotypes, which have historically prevented women from being active participants in all facets of life including areas of skills previously reserved for males, he explained.
Disability
"Our commitment to contribute to the overall national EPWP job creation tally is on course," said Nkosi. He added that R207 million had been allocated to the EPWP in Gauteng, which aims to create a total of 122 940 job opportunities for the 2011/ 2012 financial year.
There are currently, 59 714 young people, 34 144 women and 1 208 people with disabilities who benefit from programmes. These include 7 890 trainees across the projects participating in CETA-accredited training and skills development programmes.
"This reaffirms the Gauteng Department of Infrastructure Development's commitment to ensuring that women like Ms Tshabalala are equipped with appropriate skills to ensure that they can make a meaningful contribution to our communities, our province and our country," Nkosi said.
For more information, call theGauteng Department of Infrastructure Development at 011 355 5000 or send a fax to 011 355 5012.