Youth matters
A group of young people with a passion for farming are feeling a great sense of fulfilment through the succes of their business. They have created 75 jobs, reduced poverty and minimised food shortage in their community.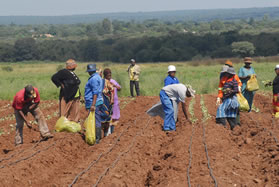 The Bana Ba Kgwale co-op was started in 2007 by a group of 10 young people from Jericho Village in North West. With hard work and determination, they are now enjoying the fruits of a successful, fast-growing business.
 "Having started off as  students at the African Farming Franchise, we, as Bana Ba Kgwale, are feeling a great sense of fulfilment being where we are today", said co-op representative, Orphan Mashala.
Donations
A donation of 440 hectares of land by the village's tribal council has boosted their production. They are currently using 22 hectares to produce vegetables such as cabbage, spinach, maize, tomatoes and pumpkins. These are supplied to large retail outlets such as Pick 'n Pay in the Madibeng Local Municipality, as well as the Tshwane Fresh Produce Market.
A donation of much-needed farming implements by the Department of Agriculture in the North West has also helped to boost production. They received two tractors, an irrigation system, a trailer and a disc plough, which is used almost on a daily basis.
Develop skills
An important aim of this project is to minimise food shortage and unemployment in Jericho. This has been partly achieved through the creation of 75 job opportunities for local villagers. In addition, two experienced contractors have been hired. By working with them, local farm workers have been able to learn from them and develop new skills.
One of the goals of Bana Ba Kgwale is for each member to build up his or her own business on approximately 22 hectares of land. By doing so, they will be able to create even more jobs in their community, reduce poverty and eliminate food shortage.
For more information, call 018 389 5719/5684