In his State of the Nation Address, President Jacob Zuma promised that education would be a key priority for the next five years. "We want our teachers, learners and parents to work together with government to turn our schools into thriving centres of excellence."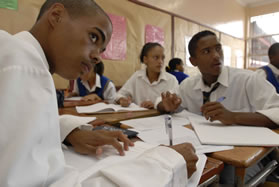 Government is committed to improving learning and teaching for every learner in South Africa. To achieve this, President Jacob Zuma made it clear that that teachers must be in school and in class, on time, teaching, with no neglect of duty and no abuse of pupils. "Children should be in class, on time, learning, be respectful of their teachers and each other, and do their homework," he said.
To help improve teaching for both teachers and learners, government has launched the Quality Learning and Teaching Initiative. It will focus on improving education as well as health in schools for the next five years.  It includes, among other things a Code for Quality Education.
Take responsibility
The campaign calls on all parents, teachers, learners, schools and the community at large to take responsibility for improving the quality of education.
The campaign will:
inform all South Africans about the importance of education and their roles, responsibilities and obligations towards education
mobilise communities to monitor and support schools, teachers and learners
improve the quality of education for all children, especially the poor, and demonstrate this improved quality through improved learner achievement.
Achieve excellence
The campaign is currently underway at national, provincial, regional, local and schools.
At the Northern Cape launch of the Quality Teaching and Learning campaign, Premier Hazel Jenkins said, "Working together we can certainly achieve success and brilliance in our schools and improve learner performance."
The time has therefore come for all South Africans to join hands in efforts to ensure that our children get the best quality education. This in turn will enrich and build our nation.
Pledge for quality education
Quality education for all cannot be achieved by government alone; it requires the joint efforts of all role players. Each role-player is called upon to make a commitment to the "Code for Quality Education".  The Code describes the responsibilities and discipline required of them.
The pledges include the following:
As a teacher, I promise to:
teach, to advance the education and the development of learners as individuals
respect the dignity and rights of all persons without discrimination
develop loyalty to, and respect for, the profession
be punctual, enthusiastic, well prepared for lessons and of sober mind and body
improve my own knowledge and skills to be more effective
maintain good communication between teachers and learners; among teachers themselves; and between teachers and parents
provide information to parents on their children's progress on a regular basis
eliminate unprofessional behaviour, such as teacher-pupil relationships, drunkenness, the use of drugs, assault and sexual harassment .
As a learner, I promise to:
accept that the main reason for being in school is to learn and develop academically, socially and culturally
adhere to school rules
respect the legitimacy and authority of teachers
participate in Learner Representative Councils to safeguard my interests
show respect to other learners and not to discriminate
avoid anti-social behaviour like theft, vandalism, assault, sexual harassment, alcohol and drug abuse, as well as other activities that disrupt the learning process.
As a parent, I promise to:
take part in school activities, including school governance structures
have regular discussions with my children about general school matters
cultivate a healthy, open and cooperative relationship with my children's teachers
create a home environment that is favourable for studying
help to protect educational resources such as textbooks, chairs, tables and other objects
contribute, within my means, the necessary resources to the schooling of my children.
For more information, call the Department of Basic Education at 012 357 3000 or call the department's Hotline on 0800 202 933