International relations
BRICS countries' commitment to digital development is aligned with South Africa's Internet for All initiative.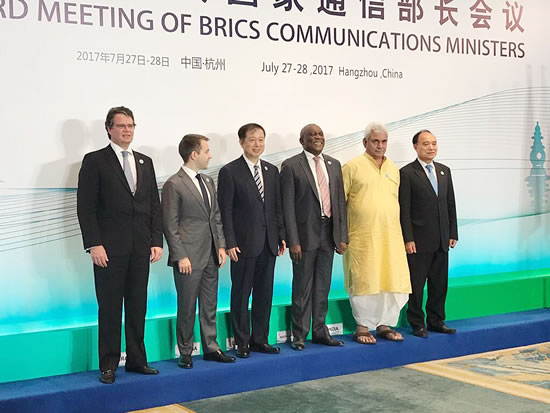 Speaking at the third BRICS Communications Ministers meeting in Hangzhou, China, the Minister for Telecommunications and Postal Services, Dr Siyabonga Cwele, called for more innovation and co-operation in the trade group.
"We need to enable BRICS countries to develop their own technologies, driven by SMMEs, which can be sold within the greater market of BRICS countries," the Minister said in his opening remarks.
BRICS governments consider ICT as the giant leap forward that will help grow the economies of all five countries in the bloc. In 2016, the BRICS nations accounted for 23 per cent of global GDP and half of the world's population.
As Russian Minister of Telecoms and Mass Communications Nikolay Nikiforov explained: "We believe that every single citizen of these countries will be connected to the network, or mobile devices, which will equal almost half of the world's ICT market."
Security and opportunity
In a statement after the meeting, all five ministers recognised the importance of the digital economy in creating new economic growth. The statement went further to recognise the security threats the 4th Industrial Revolution posed.
"We should strengthen dialogue on how to respond to security threats and establish effective mechanisms to tackle cyber emergencies. More joint efforts will be made to build a safe and reliable network, and establish a proper internet governance system," explained Liu Lihua, China's Vice-minister of Industry and Information Technology.
Minister Cwele went on to say that co-operation must include infrastructure projects, especially the BRICS Cable that will connect the countries. This would boost co-operation between the countries in developing digital technologies, including 5G, cloud computing and the use of big data to drive policy.
The South African experience
Minister Cwele pointed out that South Africa has put ICT innovation at the heart of government's economic development strategy.
The minister called on his BRICS counterparts to help the country meets its target of safe high-speed broadband for all South Africans by 2020. The Internet for All initiative aims to connect 22 million South Africans, especially rural and underserved parts of the country.
He invited BRICS partners to help ensure affordability, share e-skills and help communities to develop solutions to local problems.