Thanks to a loan from a provincial development agency, a KwaZulu-Natal woman is laying solid foundations in the construction industry.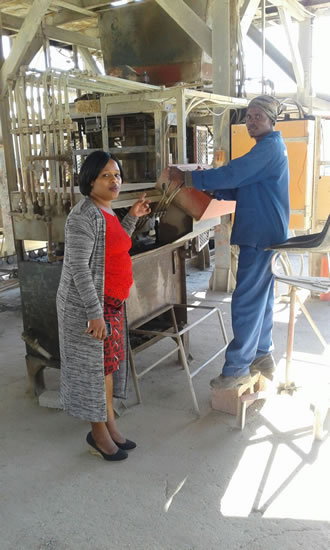 Thokozane Masikane-Zondi knows a thing or two about building. That the entrepreneurial brick maker has a foot in the door of the construction industry became evident in April when she won the R30 000 Micro-business of the Year prize at Ithala Development Finance Corporation's 2017 Business Achiever Awards.
Ithala is KwaZulu-Natal's development finance agency and the platform from which Masikane-Zondi was able to grow her business.
The 40-year-old Pietermaritzburg woman grew up with little financial security which meant she was unable to acquire a tertiary education. After school, she worked at Checkers and volunteered at the South African Police Service. When this did not lead to a permanent post, she took a leap into the unknown and started manufacturing construction blocks.
Tiba T Trading Enterprise was registered in 2006. A few small projects came Masikane-Zondi's way before she got her breakthrough – a contract from Vulindlela Development Association to supply SABS quality-approved blocks for an RDP housing project.
Helping in building the business
The contract meant that production had to be increased, which meant the company needed funding to buy more equipment. After being turned down by commercial banks or offered uncompetitive interest rates, she secured a R800 000 loan from Ithala.
Before then, the company could make only 800 blocks a day but today it produces 19 000 a day. It employs 10 people on a permanent basis and nine casual employees.
Masikane-Zondi attributes her business success to sheer hard work, resilience and having a financial institution that believed in her. Her greatest rewards are being able to help families earn a living from the jobs she has created and helping her community to build their dream homes.
Not fazed by the male-dominated construction industry, she is surging ahead to fulfill her dream of landing large-scale projects and branching into transport and logistics.
Advice for entrepreneurs
Masikane-Zondi's advice to aspiring business people is to work hard.
"Be hands-on in your business. Starting a business is like raising a baby – it needs you all the time.
"Do not use money for the business on your own needs. Business money is for business and your salary is for your needs. Once you take money from the business and use it on your own needs, the business suffocates," she said.
She encouraged all current and aspiring KwaZulu-Natal entrepreneurs looking for financial assistance to contact Ithala, especially the youth and women.
Ithala's primary focus is to increase the participation of black people in all sectors of the economy.
It was in June declared a finalist in the Vision 2030 Awards in the Industrial Action Plan Award category in recognition of its contributions to moving the nation forward, as a leader in the sector and as a proponent of the National Development Plan.