Yoliswa and Xolani Gumede, a young couple from KwaZulu-Natal, have made history as the first black strawberry farm owners in the province. They own Cappeny Estates.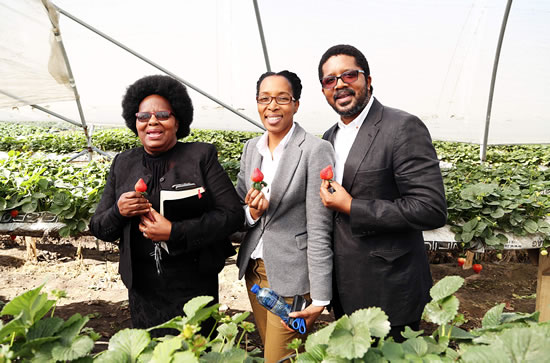 Whilst strawberries generally grow best in a low temperature climate, Cappeny Estates, located in Ballito north of Durban,  is growing the fruit in the hot and humid area.
Yoliswa (43) is a former marketing and public relations professional, whilst Xolani (45) used to be a project manager.  When they started the farm in 2013 they were not sure that their plan would work.
"There is always a fear of failure, but as they say courage is not the absence of fear but going ahead despite the possibility of failure. We did our research and found that there are various varieties of strawberries that are more heat tolerant than others. These varieties didn't exist 20 to 30 years ago," Xolani said.
Cappeny Estates is the first commercial project of its kind in KwaZulu-Natal, and the farm produces between 1 000 and 2 000 punnets of strawberries a day. It has created 23 permanent employment opportunities and offers employment to between 30 and 100 seasonal workers.
The farm grows five varieties of strawberries and initially had four hectares of land under production. It has now expanded to 8.5 hectors, with plans to increase its harvest. Cappeny Estates sells its produce to various national supermarkets, such as Checkers Hyper, Spar, Food Lover's Market and Woolworths and is about to start exporting its goods to the Middle East.
Xolani said they were looking for a crop that would do well locally and in the export market. Cappeny Estates is located close to the airport, which makes exporting produce easier and ensures cheaper transport costs.
Xolani said there are numerous challenges growing strawberries, but lessons have been learnt and problems can be avoided.
"There are severe production challenges. Ensuring profitability meant a lot of research and some failed attempts, before we got it right. If they were easy to grow and sell, everybody would be doing it. The fact that not many people are doing it, tells you that at some stage there's a high element of risk. The business has to pay royalties − in foreign currency − to an American company for the intellectual property which generated the cultivars and for the rights to grow the strawberries," Xolani said.
Xolani offered to share their knowledge with newcomers, and is not concerned that they could be helping future rivals enter the industry. "We cannot cope with the demand, so there is plenty of business for everyone," he said.
One of the workers at Cappeny Estates Mbali Biyela (37) said she enjoys her work because it helps her to provide for her family. "Xolani and his wife are humble and understanding people, who care for the wellbeing of their workers. If we are here we do not feel that we are at work. This place is more like home," she said.
Deputy Minister of Agriculture, Forestry and Fisheries Bheki Cele and the MEC of Agriculture and Rural Development, Themba Mthembu, visited the farm recently to showcase the young farmers' work in line with the National Youth Policy 2020 and the department's Young Producers and Entrepreneurs Strategy.
Cele said the farm has met government's standards of maintaining food security and nutrition, job creation and contributing towards the country's Gross Domestic Product (GDP). He added that government will be working closely with the farm owners so that such productive farms can be multiplied and the youth can venture in such opportunities.
"The farm offers food security and nutrition and job creation and contributes to the GDP. The department is mandated to grow agriculture's contribution to the GDP, from 2.7 per cent to 6 per cent."