The Health and Welfare Seta has provided R15.9 million to help fund education for students from poor and rural families, who didn't have money to pay fees.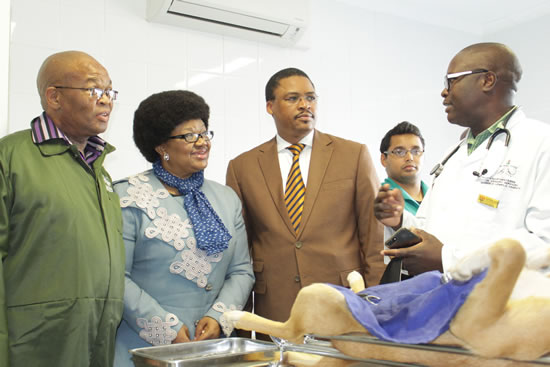 The Eastern Cape Department of Rural Development and Agrarian Reform and the Health and Welfare Seta has awarded R15.9 million in bursaries to 105 students at the Tsolo Agriculture and Rural Development Institute who are studying towards a diploma in animal health.
To date, 225 Tsolo Institute students have received R23.9 million in bursary funding from the Health and Welfare Seta.
Second year student Pretty Morrison said without the bursary she would have struggled to pay for her studies, and it helps her to focus on getting higher marks. "The bursary means that I can be educated and become an animal health technician. I can gain experience when I come out of college, and I can go out and help the community."
She said she wanted to be an entrepreneur: "I want to start my own sheep farm business because I want to focus on wool production." After completing her studies she planned to invest some of her stipend in building her business.
Tsolo Institute's SRC president Zubenathi Ngxishe said bursaries open access to education for youth to move the country forward.
Tackling poverty
"Getting the bursary means I will be able to learn and be equipped to work. [Without the bursary] I wouldn't have been able to pay my fees, as last year I only managed to pay my registration fees," said Ngxishe, who plans to open a farm to treat animals in rural areas.
Health and Welfare Seta Eastern Cape Manager Welekazi Mangaliso said the bursaries are also reducing poverty through a monthly stipend which students share with their families who have no source of income.
"One of the main purposes of the Seta is to redress past imbalances. Previously not everyone was able to access scarce skills. This qualification offers scarce skills that will equip these learners to achieve whatever they want in life. They can be employed and they can be self-employed," said Mangaliso.
MEC of Rural Development and Agrarian Reform Mlibo Qoboshiyane said it was good to see government entities partnering to support students to get a quality education. Qoboshiyane urged students to take their studies seriously. "I am optimistic that these students will be of value and assets in their communities."
Upgrading infrastructure
The department is upgrading the Tsolo Agriculture and Rural Development Institute's infrastructure. "We invested about R20 million to upgrade infrastructure facilities like the vet clinic, crop sheds, postmodern facility, palisade fence, dairy parlour and student residences," said Qoboshiyane.
The Tsolo Institute offers diploma courses in animal health, breeding and genetics, aquaculture and wildlife, non-ruminant animal production, occupational communication, animal handling and welfare, veterinary anatomy and physiology, veterinary microbiology and immunology among others.
The department also engaged AgriSETA to contribute to students' education. The OR Tambo District and Mhlontlo Local municipalities also provided bursaries to some students from their areas.
AgriSETA contributed R500 000 for 20 students, which will be transferred to the 2017 intake.
Mhlontlo Local Municipality awarded R263 000 in full bursaries to 12 students for tuition and boarding for one year. It also provided R407 000 to 22 first year students from villages within Mhlontlo.
In 2017, OR Tambo District Municipality funded two students to the amount of R43 200, inclusive of a R4 000 book allowance for each student.