An Eastern Cape entrepreneur who has won awards for creating an innovative energy saving device for geysers is on the verge of heating up the market.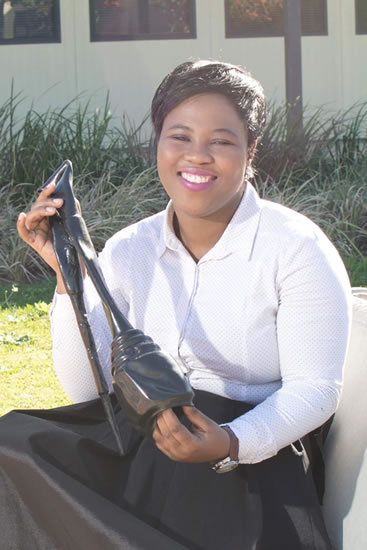 Sandiswa Qayi's device, Hot Spot, which can be fitted onto any geyser and saves energy by only boiling a certain amount of water instead of all the water in the geyser, led to her launching her own business, Amahlathi Eco-Tech (AET) Africa, last year.
Qayi won the Youth-led Business Award in this year's Global Clean Tech Innovation Programme for small and medium-sized enterprises.
The company received seed funding to develop the device last year and Qayi is in the final phase of finishing Hot Spot's production – all tests in relation to device performance, water testing and material testing have been done.
"Since last year we secured seed funding from the Innovation Hub and Technology Innovation Agency, which was used to develop the product. We needed to test Hot Spot, in terms of health and safety compliance, particularly for water safety and to make sure that the material doesn't result in any harmful substances inside the water. We also refined the product design so that we can get it ready for commercialisation," she said.
How does Hot Spot work?
Qayi says Hot Spot enables users to operate the geyser like a kettle. In other words, when a user wants to make two cups of tea, they do not fill up the entire kettle with water, but only with an estimated amount.
Hot Spot heats up a specific amount of water and moves it to the top of the geyser, through to the tap.
"If you need 20 litres to have a shower or bath, then you only heat up the 20 litres you need and then switch your geyser off. This means you can switch your geyser on or off when you need it, and only use the amount of water you need.
"The difference between Hot Spot and the geyser timer is that with Hot Spot, as soon as hot water is heated, it flows to the top and to the outlet — which is where your tap is.
"The way a geyser is designed, you have to wait one and a half hours to get hot water because it heats up all the water.
"With Hot Spot hot and cold water never mix."
This means that users can get up to 50 litres of hot water in 30 minutes, heated to 50 degrees celsius.
Qayi says Hot Spot bagged another award in June 2017. She walked away with a gold award in Energy Efficiency under the Ecological Award category at this year's Eco-Logic Awards, hosted by The Enviropaedia.
AET Africa's primary goal is to get the product fitted to the existing seven million geysers on the power grid. Qayi said they hope to improve energy efficiency to help South Africans who cannot afford to have hot water due to the high costs associated with operating an electric geyser.