Written by Noluthando Mkhize
Mosa Mphore says it's high time South Africans move away from negative misconceptions about donating organs.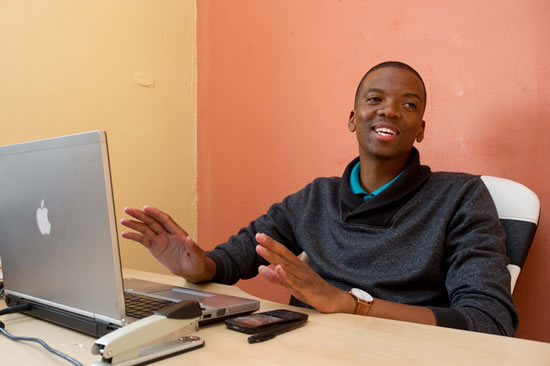 "People say donating organs is wrong. That it goes against religious and cultural practices. They forget that if you give consent for your organs to be donated you are giving another person a second chance at life," said Mphore.
Mphore was speaking to Vuk'uzenzele from his home in Soweto, Johannesburg. He is living testimony of of how donating organs can give other people a second chance at life.
Fighting to stay alive
In 2011 Mphore's life took a drastic change when he fell ill and found himself in hospital fighting for his life.
"I remember this nightmare like it happened only yesterday. It was a very confusing period for me when I got sick. I would be out and about feeling fine one minute and start feeling extremely nauseous and out of energy the next.
"I constantly had stomach cramps and was vomiting all the time, unable to hold anything down. This was a huge shock for me as a young man living a considerably healthy lifestyle and taking part in lots of activities, such as running and playing tennis."
He went to see his doctor who discovered that his blood pressure was too high for his age and they suspected kidney failure.
"Doctors took urine samples which showed high protein content. My kidneys were no longer filtering proteins and toxins. It was confirmed at Chris Hani Baragwanath hospital that I had end-stage kidney failure."
"The doctors explained to me that this condition was caused by hypertension which was due to my family history of suffering from this chronic illness."
Mphore said that the doctors told him that he was lucky to be alive.
"I stayed in hospital for three months and was immediately placed on haemodialysis treatment."
In haemodialysis, a machine filters wastes, salts and fluid from the blood when the kidneys are no longer healthy enough to do this work sufficiently.
Haemodialysis is the most common way to treat advanced kidney failure.
According to the Department of Health haemodialysis is offered in different government hospitals around the country, namely the Northern Cape Kimberley Hospital (Northern Cape), Klerksdorp Hospital, Job Shimankane Tibane Hospital and Mafikeng Provincial Hospital (both in North West), Universitas Hospital (Free State), Livingstone Hospital and Frere Hospital in the Eastern Cape, Tygerberg hospital (Western Cape), Red Cross War Memorial Children's Hospital and Groote Schuur Hospital.
In KwaZulu-Natal Inkosi Albert Luthuli Hospital offers haemodialysis, while the treatment is offered in Gauteng at the Charlotte Maxeke, George Mukhari and Steve Biko Academic hospitals.
In Mpumalanga, Rob Ferreira and Witbank Hospital offer Haemodialysis.
Mphore said that life was never the same for him as he was constantly ill and in and out of hospital.
"This continued until I started dialysis at home which was not a good experience either, especially when I had to be hooked up to a machine every four hours for treatment."
"I was placed on a waiting list for a kidney donation. I could feel my life slowly drifting away and my friends distancing themselves. At least I had the support of my family, a few close friends and my girlfriend."
In 2013 Mphore said he underwent a kidney transplant.
"It took me three months to recover after surgery. Because of what I went through, I have decided to dedicate my life to raising awareness about organ donation by telling my story and teaching people about chronic illnesses."
Open-Eye Foundation
While in hospital, Mphore made a pledge to save at least one other person from this ordeal and educate the community about kidney diseases.
"I established the Open-Eye Foundation, a public health and awareness non-profit organisation which educates the public on acute and chronic illnesses and the life-saving benefits of organ donation."
He adds that life has been filled with ups and downs but he is grateful to have been given a second chance, which made him dedicate his life to informing others.
For more information on organ donation, visit www.odf.org.za or call the toll-free number on 0800 22 66 11.