Written by Thandeka Ngobese
As the country experiences the effects of drought, government is rolling out plans to help those who have been worst affected.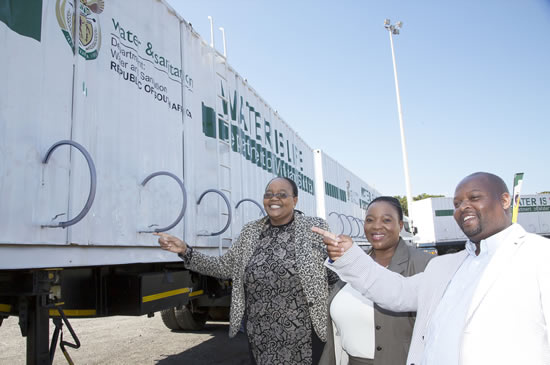 The KwaZulu-Natal (KZN) Cooperative Governance and Traditional Affairs (Cogta) MEC Nomusa Dube-Ncube in partnership with the Department of Water and Sanitation recently handed over four converted water storage facilities to the hardest hit KZN municipalities.
Speaking at the handover ceremony, MEC Dube-Ncube said government believes that actions speak louder than words and her department was supplementing its drought awareness campaign with interventions aimed at mitigating the impact of the current drought.
"This handover is not an isolated event. Over the past year, the KZN Cogta has bought more than 53 motorised water tankers for various districts, drilled more than 150 boreholes and refurbished 85 others back into operation.
"Our interventions are changing people's lives in real time. They are also building our resilience as a province in the face of future droughts which are fast becoming a fact of life as a result of climate change," said MEC Dube-Ncube.
The four converted water tankers are made of stainless steel and each have a capacity of 80 000 litres. Each will be able to supply water to 2 000 people per week. The four recipients of these facilities are Abaqulusi, Mthonjaneni, KwaDukuza and Maphumulo local municipalities. KwaDukuza Municipal Mayor Ricardo Mthembu said the water tanks would bring much-needed relief to the area.
"This is really a long-term drought management plan for us. Before we had mobile water tanks for easy transportation of water to needy communities, but the problem with those tanks is that there were small. The truck had to go to one community five or six times a day and by the time they were ready to move to another community, it would already be dark. The big tanks are going to help a lot and they are going to save time," he said.
One of the residents from KwaDukuza, Mzonjani Hlongwa, said the community was grateful for the water tanks.
"Drought has caused so much devastation among our community. This year we didn't plant anything because of water shortages; our livestock is dying because there is no food and water," he said.
MEC Dube-Ncube urged the community to look after the water tanks and maintain them so they will last and serve as many communities as possible.
"These tanks now belong to you. Please safeguard them and report to councillors any form of vandalism," she said.