Minister Edna Molewa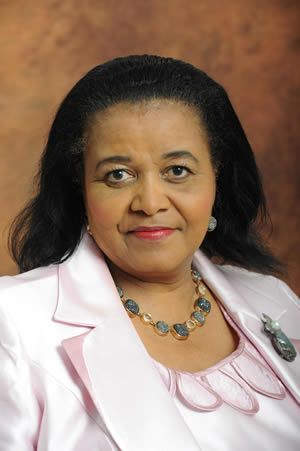 Minister Edna Bomo Molewa is the current Minister of Environmental Affairs. She has held the position since May 2014.
About the Minister
Minister Molewa was among the first Members of Parliament of the first democratic parliament between 1994 and 1996.
She is the first female chairperson of the Portfolio Committee on Trade and Industry.
An educator by training, Minister Molewa taught at Moloto and Mokonyane Secondary Schools from 1976 to 1981.
In 1996 Minister Molewa served as a Member of the Executive Council (MEC) for Tourism, Environment and Conservation in the North West Province, a position she held from 1996 to 1998.
From 1998 to 2000 she served as MEC for Economic Development and Tourism in the province, and as MEC for Agriculture, Conservation and Environment from 2000 to 2004.
During the same year she was appointed Premier of North West, the first woman to hold this position, which she held until 2009.
She is studying for a B.Com degree through the University of South Africa.
About the Department
The Department of Environmental Affairs is mandated to give effect to the right of citizens to an environment that is not harmful to their health or wellbeing, and to have the environment protected for the benefit of present and future generations. The department provides leadership in environmental management, conservation and protection towards sustainability for the benefit of South Africans and the global community.