Rural Development and Land Reform Deputy Minister Mcebisi Skwatsha and Chief Land Claims Commissioner (CLCC) Nomfundo Ntloko-Gobodo recently handed over 32 title deeds and R50 million to successful land claimants.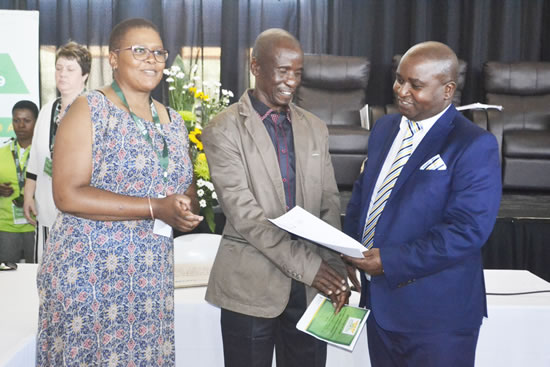 Title deeds, which were handed over in Pretoria recently, were given to the families who lost their rights to land in Onverwacht, Rustfontein, Vlakfontein, Ellison, Steynberg, and Wallmansthal. All these areas are in Gauteng.
Four claimants from Blaauwbank, Leeufontein, Kafferskraal and Vygeboschlaagte (in Gauteng) were given financial compensation of R50 million.
"Today we are celebrating restitution in action; we are celebrating the resilience of our people. We are undoing the connotation that the restitution process is too slow," said Deputy Minister Skwatsha.
He said part of the delay in the restitution process was due to challenges that result as it is implemented.
The restitution of land is an initiative of the department. The Restitution of Land Rights Act, passed in 1994, is the legislative framework that saw the establishment of the Commission on Restitution of Land Rights, under the leadership of the Chief Land Claims Commissioner.
Through this office, South Africans who were dispossessed of their land are given an opportunity to claim back  land that was taken from them during apartheid. The process of land restitution started in 1994 and ended in 1998.
In 2014 President Jacob Zuma reopened the process to make provision for land claimants who missed the 1998 deadline.
CLCC Ntloko-Gobodo said the claimants who were honoured during the handover celebration were part of the 11 437 land claims lodged in Gauteng during the first lodgement period between 1994 and 1998. Currently, only 424 claims remain to be settled.
"We acknowledge that people have endured suffering as a result of land taken from them. The process of restoring land is complicated but it must be said that the commission is doing its work. The wheel is moving and we are restoring the dignity of our people," she said.
The process of restitution faces some challenges such as unregistered and unsurveyed land, competing rights to land, change of names at farms, internal family fights and lack of institutional capacity that delay progress.
Claims are lodged electronically in 15 offices and six mobile offices. People have until
30 June 2019 to lodge their claims.
As of 31 December 2015, 3 310 554 hectares of land were awarded to successful restitution claimants that opted for land and over R9 billion was awarded as financial compensation.
Since the reopening of the land claims process in 2014, 133 314 claims have been lodged.
Andries Vusi Mahlangu, one of the descendants of the Leeufontein claimants, was at the event and was overjoyed that their claim was finally settled. Even more satisfying for him was that the claim was settled while his grandmother Feleni Mthimunye (98) was still alive.
"The first thing we will do as a family is erect tombstones for our ancestors, just to notify them that we got our land back," he said.
* Themba Hleko works for the Department of Rural Development and Land Reform.