Municipalities across the country will benefit from a partnership between the South African Local Government Association (SALGA) and The Sports Trust.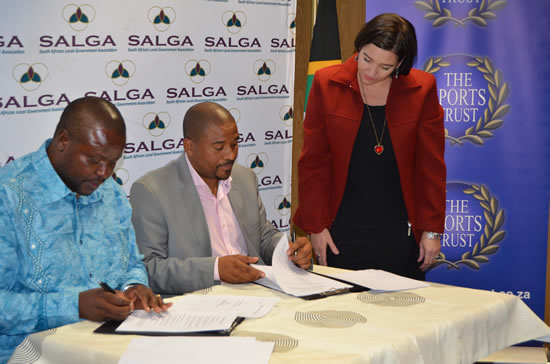 The Sports Trust will identify the needs for sports facilities and will act as an implementing agent for all joint sports projects in municipalities to ensure the highest return on investment.
SALGA represents local government and is mandated to transform local government to enable it to fulfil its developmental role. The Sports Trust has expertise in the field of sports and recreation and plays a role in the development of sport facilities and provision of related sporting equipment and kit.
Chief Executive Officer of SALGA Xolile George said the sports facilities will help local government to fulfil its developmental role.
Chairman of the Board of Trustees at The Sports Trust Jackie Mathebula said the partnership will assist municipalities to unearth hidden talents, especially in rural areas.
"The bigger goal is to ensure that those children and the youth that have got potential and talent to participate in any sporting code will have access to facilities, kit and coaches and we hope they will excel in those sporting codes.
"We need to ensure that all the youth across all corners of South Africa have access to world-class sporting facilities," said Mathebula.
The facilities that will be built are multipurpose courts that can accommodate various sports codes.
"These facilities have a durability period of 20 years and they will cater for various sports codes such as football, tennis, netball, volleyball and can also be used as an exercise field."
Currently, multipurpose courts have been installed in different schools across the country.
One major aspect of the courts is that they are maintenance free.
"All that you have to do is make sure that the grass is cut and does not grow onto the playing surface," added Mathebula.