Written by Bathandwa Mbola
South Africa and Saudi Arabia's economic and political relations received a significant boost following a successful state visit by President Jacob Zuma to that country recently.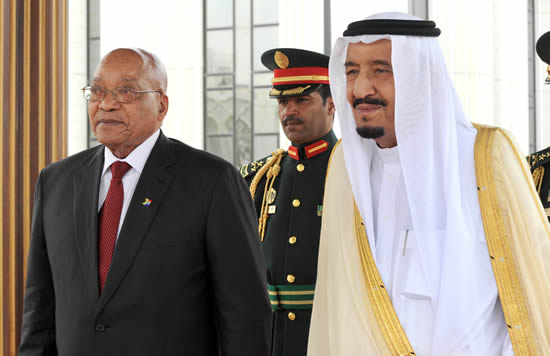 The Presidency described the visit as important for strengthening bilateral political and economic relations particularly in the areas of trade and investment.
This, in addition to bilateral trade in targeted sectors. These include South African agricultural and agro-processed goods and services, defence procurement, manufacturing, and mineral beneficiation as well as South Africa's participation in the Saudi National Transformation Plan, especially in infrastructure development, including construction and engineering is also important.
"We are very pleased that this state visit will ensure, among other things, continued Saudi private sector investment in our country's renewable energy sector in support of the National Development Plan; the South African petrochemical sector; banking and finance; tourism infrastructure as well as Saudi participation as a maritime state in our Operation Phakisa," President Zuma said.
First Order award
President Zuma met with Saudi King Salman bin Abdul Aziz where he was also given the First Order, the highest award the King bestows on a foreign national.
"I am very humbled to receive this rare award from His Majesty King Salman Bin Abdul Aziz on behalf of our people and our country South Africa," said President Zuma.
Business-to-business cooperation
President Zuma also addressed a high-level meeting of South Africa − Saudi Arabia business entities where he emphasised the importance of creating a platform to enhance business-to-business cooperation to increase South African exports to the Saudi market and attract Saudi investors to South Africa.
The President said he was pleased the state visit offered South Africa an opportunity to gain an overview of regional security challenges from Saudi Arabia's perspective.
"We are looking forward to the possibility of us as South Africa sharing our own experiences with regards to negotiation and reconciliation to assist in moving towards peace and security in that region," he said.
The two countries have agreed to work to ensure closer bilateral intelligence cooperation, in particular in relation to the regional terrorism threat to domestic and regional security and stability.
South Africa and Saudi Arabia will also promote the stabilisation efforts of South Africa's Middle East Peace Process (MEPP) Special Envoys in support of international efforts to find a lasting solution to the Palestine − Israeli conflict.
Working visit to the UAE
President Zuma's mission also went to Dubai in the United Arab Emirates (UAE) for a working visit.
The President met Prime Minister Sheikh Mohamed bin Rashid Al Maktoum, followed by an interaction with the UAE business community prime minister, as well as several business leaders.
The aim of the visit to the UAE was to strengthen political and economic relations which exist between the respective countries in particular in the commercial, trade and investment sectors, as well as people-to-people and cultural interaction.
The UAE is one of the most developed countries in the world with the best infrastructure.
The two countries enjoy a strong bond of friendship and strategic bilateral relations characterised by the exchange of several high-level visits, a high-level of trade and economic interaction, multiple daily flights between the UAE and three South African cities and a large South African expatriate community in the UAE.