Specialised crime-fighting

and tracking units are back to end criminals reign.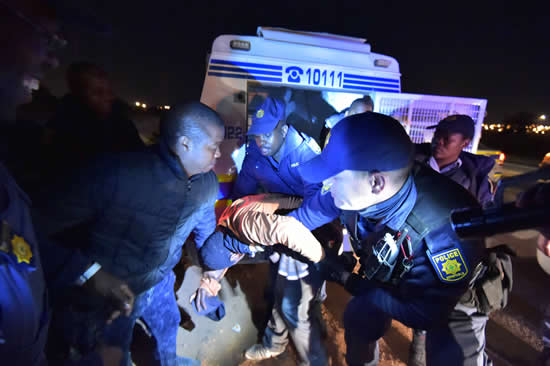 Now that Police Minister Fikile Mbalula has relaunched the SAPS's Tactical Response Team (TRT) and tracking teams, criminals have nowhere to hide.
The TRT and tracking teams' main aims are the prevention and combating of crime in hotspots and the capturing of escaped criminals and elusive suspects.
Minister Mbalula resuscitated the tracking units, which have teams countrywide, to augment visible policing and TRT efforts. The teams track, locate and facilitate the apprehension of perpetrators of crime, especially those involved in serious and violent crimes, such as the killing of police officials.
"There will be chopper drops, roadblocks and stop and searches; we will saturate key crime hotspots and other top-secret methods will be used to do our best to give our people their country back by force," he said.
Minister Mbalula has assured the public that both teams will go after dangerous criminals.
"We have chosen the finest, bravest and most highly-skilled men and women in our police service to join these elite units to assist in combating these threats to our lives," he said.
Minister Mbalula said that although the TRT would be targeting crime hotspots, it would be visible all over the country.
"These teams are ready and capable; they are well resourced."
There are 27 units in all nine provinces: three in Western Cape and four teams each in Gauteng, Eastern Cape and the North West. Limpopo and Northern Cape have one each while there are six units in KwaZulu-Natal, tasked with ending high-risk political killings.
Serious crimes reported at police stations would be elevated to the TRT members, who were retrained to deal with medium to high-risk crime, such as hijackings and aggravated robberies. The stations will continue with normal service delivery duties. If the crime is more serious, it will be escalated to the cluster, where the operations command centre will deploy teams to deal with it.
Minister Mbalula also warned police officers involved in criminal activities that they will face the full might of the law. He added that through enhanced police visibility, the SAPS is going to make major inroads in decreasing the levels of serious crime. A medium-term target to reduce the number of serious crimes reported, from 1 788 139 in 2015/16 to 1 587692 in 2019/20, has been set.
Minister Mbalula urged the community to report crime and not to buy stolen and counterfeit goods.