written by Hlengiwe Ngobese
An extensive

fleet replacement programme is tugging South Africa's Oceans Economy in the right direction.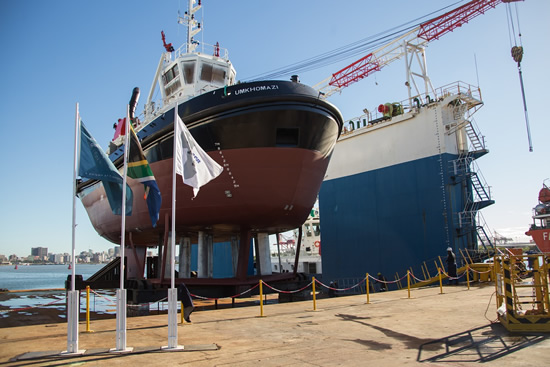 Transnet National Ports Authority (TNPA) has launched the seventh and eighth tugs of its R1.4-billion, nine-tug construction contract.
The seventh tug, Usiba, was named and launched in August and will be stationed at the Port of Cape Town. uMkhomazi, the eighth tug, was launched in mid-November and will serve at the Port of Durban. Its name means 'place of whale cows' in isiZulu and is in reference to the large numbers of whales that once used the estuary as a nursery.
The name follows the port's tradition of naming its marine fleet after local rivers.
All of the tugs were built by Southern African Shipyards in Durban. The first six tugs were delivered to Richards Bay, Port Elizabeth and Saldanha.
 Usiba was originally destined for Richards Bay but was instead deployed to Cape Town.
TNPA GM: Commercial and Marketing and Lady Sponsor of uMkhomazi Lauriette Sesoko, explained that the Port of Cape Town had recently experienced an upsurge in larger vessels requiring tugs with a more powerful pull. Meanwhile, the Port of Richards Bay had already received three new tugs in recent years.
"In future orders where Cape Town is catered for, a tug will be reimbursed to the Port of Richards Bay," she said.
Sesoko gave the assurance that TNPA would continue to roll out its fleet replacement programme to best serve all its ports and their customers. Through the current tug construction project, TNPA and Southern African Shipyards have created 500 direct and
3 500 indirect jobs with a minimum of 60 percent locally manufactured components. Subcontractors involved in the project include international companies with local operations such as Barloworld Equipment, Siemens and Voith Schneider, and contractors such as Bradgary Marine Shopfitters.
The building of the nine tugs forms part of a wider fleet replacement programme that also includes new dredging vessels and new marine aviation helicopters.
Having new and more powerful tugs in its ports will better enable TNPA's marine operations to improve operational efficiency, speed up vessel turnaround times and assist bigger commercial vessels.
" The Oceans Economy translates to skills development, jobs, innovation, entrepreneurship and changing this country for the better always," she said.
Southern African Shipyards CEO Prasheen Maharaj commended TNPA for investing such confidence in a local company. "This contract has had a major positive socio-economic impact on the marine manufacturing value chain and created thousands of direct and indirect jobs. It has also resulted in the training of over 40 apprentice artisans during the construction period. In addition, it has stimulated industrial innovation and led to the development of prototype components that could be used widely in the maritime and
industrial sectors in the
future."