The opening of Dumisani Makhaye Drive in KwaZulu-Natal paves the way for economic development.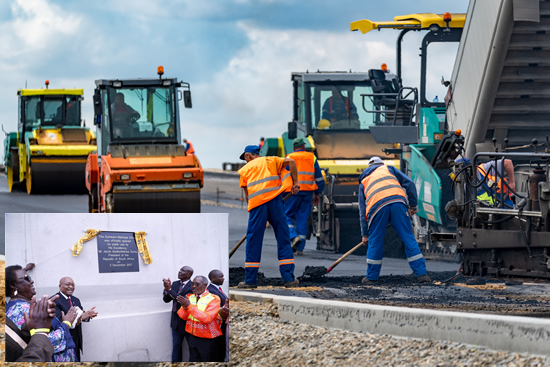 The new Dumisani Makhaye Drive not only addresses the challenge of apartheid spatial planning but it also paves the way for economic development for communities in the area.
Speaking at the formal opening of the road President Jacob Zuma said: "The road is of high quality. It demonstrates government's commitment to growing the economy and creating much-needed jobs in the community."
The R1.3 billion project is the biggest road infrastructure development in the country in five years and also the most complex road project to be undertaken in years. It forms part of government's nationwide programme to upgrade infrastructure.
The road spans the uMngeni River and provides a strategic link between Duffs Road in KwaMashu and Dinkelman in New Germany. It shaves 16 kilometres for traffic using the N3 to connect to the N2.
This makes the communities of Newlands, KwaMashu, Inanda, KwaDabeka, Clermont and Pinetown more closely connected.
It is set to ease traffic congestion in the eThekwini Metropolitan Municipality.
Significantly, the road will serve as a new alternative route to the King Shaka International Airport for traffic coming from the Pietermaritzburg and Pinetown areas, which will ease traffic congestion on the N2/N3 interchange.
"This is a major step in the government's drive to create easy access for communities for socio-economic development," said the President.
The road has received a stamp of approval from the South African Institution of Civil Engineering, which praised the high standard of engineering techniques that were used without damaging the landscape.
Transport Minister Joe Maswanganyi who accompanied the President, said that the road furthered the Department of Transport's plans to boost infrastructure development in port areas such as Durban.
The KwaZulu-Natal South African National Taxi Council thanked the government for the road infrastructure as it will improve the industry's ability to deliver transport services in the metro.
The road is named after the late struggle hero, Dumisani Makhaye, who dedicated his life to the fight against apartheid.
Makhaye was born on 27 March 1955 in Cato Manor, otherwise known as Umkhumbane, in KwaZulu-Natal. In his quest for freedom, Makhaye went into exile to join uMkhonto we Sizwe. He later served his home province as Housing and Agriculture MEC in the KwaZulu-Natal Provincial Executive Council.
Makhaye served the KZN Cabinet from 1999 to 2004.
The launch of the road is part of the KwaZulu-Natal provincial government's Roads Naming and Renaming Legacy Project. The project aims to help communities reclaim their historical legacy, pride and heritage.