A fledging scientist is using his passion for maths and science to empower learners in Carnarvon.
When Itumeleng Molefi (27) decided to take a gap year in 2013 after completing his Bachelor of Sciences Degree in Pure and Applied Mathematics and Honours in Physics, he did not think he would find himself changing lives in a small Karoo town.
Molefi, who comes from Barkly West near Kimberley in the Northern Cape, was supposed to pursue a Master of Physics Degree but decided to take a break and instead joined Teach South Africa, which looks for graduates who are able to teach maths and science, technology and English.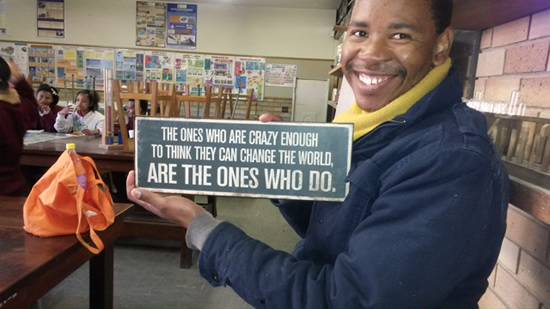 "I was supposed to do a Master's Degree in 2013 but because I had a difficult year in [2012], I decided to take a break. I joined an organisation called Teach South Africa."
Although he was supposed to be posted in Witbank, Mpumalanga, he opted instead to head to Carnarvon because he would be closer to home.
Carnarvon is an isolated town over four hours from Kimberley and nearly eight hours from Cape Town. The former mission station is the closest town to the science and astronomy hub that is forming in the central Karoo region where the Square Kilometre Array (SKA) is taking shape.
As a high school student, he began applying for an SKA scholarship but it was only when he started his Honours that he was successful.
Spending his gap year in Carnarvon doing something meaningful was thus a natural fit for Molefi, whose dream it was to shape minds as an educator.
Teach South Africa uses a model adopted from an international programme called Teach America which seeks to train professionals who do not have a teaching qualification.
Despite his mother tongue being Setswana Molefi found himself having to teach in Afrikaans at Carnarvon High School.
Molefi said the four years he has spent teaching physics at Carnarvon High School have been fulfilling. And he has certainly made his mark. After settling in, he urged learners to think out of the box and subsequently encouraged them to enter the Eskom Expo for Young Scientists, which is a platform that offers hundreds of learners an annual opportunity to represent their schools and showcase their scientific ideas.
In 2016, Molefi and another colleague guided 12 learners through the entry process and then were able to stand back with pride when they scooped a silver and bronze medal for social sciences and computer science projects respectively.
This year, the school won four bronze medals for various projects.
Despite his learners not taking gold, Molefi is happy that they consistently receive podium positions and, more importantly, he is satisfied that he has changed how science is taught at the school by making it more relevant and less intimidating for the learners.