written by Noluthando Motswai
Sport, arts and culture
A provincial festival brings together aspiring writers, published writers and publishing houses.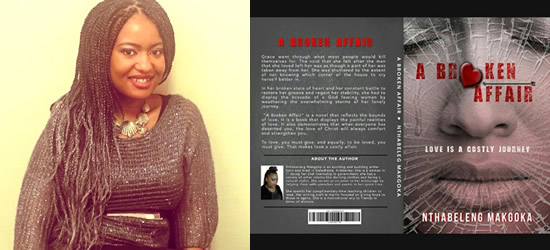 A 30-year-old Kimberley woman felt the thrill of success recently when she held in her hands a book that she had written.
Nthabeleng Makgoka received R43 000 in sponsorship from the Northern Cape Department of Sport, Arts and Culture and was given a platform to launch her book at its ninth Writers Festival hosted at the Sol Plaatje University.
"The realisation of knowing that the first step to fulfilling my dream as a writer has come true was motivating enough to write and work harder. Secondly, knowing the financial burden of putting my work out there has been paid off was a big relief," said Makgoka.
Her debut novel is about a young lady named Grace who takes a spiritual journey to heal from a failed affair. Her journey is difficult and lengthy but she is determined to withstand the storm by all means possible by focusing on her businesses, her parenting skills, her career and, above all, her relationship with God.
Makgoka, who studied Information Technology at the Central University of Technology in the Free State, discovered her passion for writing in 2006 when she started penning poems for loved ones.
A compilation of short stories and a children's book are next on her agenda.
Makgoka said that the department is doing a good job of bringing together like-minded people to network and share their experiences.
"Hosting creative writing workshops which enhance our writing skills is a step in the right direction," she said, sharing that she met her publisher at a writers festival.
MEC of Sport, Arts and Culture Bongiwe Mbinqo-Gigaba said literature is a powerful tool for social dialogue, social cohesion and nation building.
"We have entered into a partnership with Sol Plaatje University to promote the development of literature, indigenous languages and the development of capacity to sustain reading and writing activities in the Northern Cape," she said.
MEC Mbinqo-Gigaba said the partnership with the university has resulted in progressive creative writing workshops being held throughout the province for aspiring local writers and poets.
"As the custodians of our nation's heritage, it is the responsibility of the Department of Sport, Arts and Culture to promote the culture of reading and writing and develop a sustainable book publishing industry that encourages equitable development of all South African languages."
She said writers have an important role in society because they are the conscience of the communities.
"They chronicle our stories. They remind us of where we come from. They help us better understand the present and thus shape future perspectives of our society. They amplify the wishes, the aspirations and the cries of the people."