A growing number of companies are showing confidence in South Africa by investing billions of rands into the country.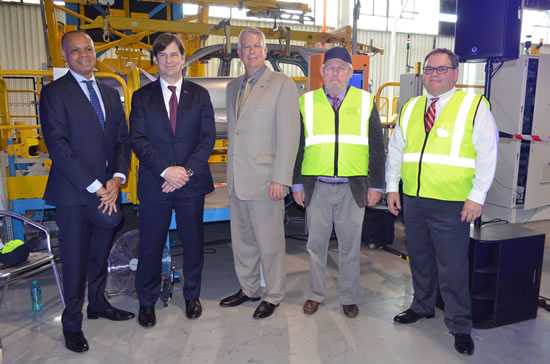 Recently Ford Motor Company of Southern Africa announced a R2,5 billion investment in local production to expand operations in South Africa at its Silverton Assembly Plant, in Pretoria.
This will see the production of the all-new Ford Everest, along with the new Ford Ranger that was launched at the end of last year.
Such investments create jobs and contribute to the growth of the country's economy.
Trade and Industry Minister Rob Davies said the investment not only shows confidence in South Africa but also shows the significance of the Africa Growth and Opportunity Act (AGOA) two-way benefits.
AGOA is a legislation that provides duty-free market access to the US for qualifying sub-Saharan African countries by extending preferences on more than 4 600 products.
"The automotive industry is of significant importance to South Africa. To date we have invested more than R25 billion in the motoring industry and are positive that through this investment we will see more and more vehicles manufactured locally," said Minister Davies.
Investment to create jobs
Ford Executive Vice President and President of Europe, Jim Farley, said the investment will create approximately 1 200 new jobs at Ford South Africa and within the South African supplier network.
"Our customers love the capability and utility offered by the all-new Ford Everest. By producing the Everest in South Africa, we will be able to make it more readily available, and in a greater variety of models, for customers throughout Sub-Saharan Africa.
"The R2.5 billion investment reaffirms the importance of these markets as part of our growth strategy across the Middle East and Africa. It further reinforces South Africa's position as a strategic export base for Ford Motor Company," explained Farley.
The initial production of the Everest at the Silverton plant will commence in the third quarter of 2016, with the first units expected to enter the market in the fourth quarter. South African-produced models will be sold locally and exported to markets across Sub-Saharan Africa.
In 2008, Ford announced plans to build the Ford Ranger at its Silverton Assembly Plant with an investment of R3.4 billion. The investment allowed Ford to transform both of its South African plants into world-class facilities to produce the Ford Ranger and Duratorq TDCi engines for local consumption and export.
Investing in training and development
About 200 people a year will benefit from Ford Motor Company's new Ford Resource and Engagement Centre.
The centre, which is based at Ford's vehicle manufacturing plant in Silverton, will the Mamelodi community in particular to find a job or start their own small business in order to sustain themselves.
The investment forms part of a five-year project worth R59.8 million.
Ford also partnered with Future Families, a non-profit organisation established in 2001 with R120 000 in funding from Ford, that has provided assistance to orphans and vulnerable children and people infected and affected by HIV/Aids in South Africa.
Ford Motor Company hopes to change lives and bring a positive change to the community.
"The aim is to address the basic needs of the community and currently that is job training. We want to give people a place where they can come and work with us to break the cycle of poverty," said Jim Vella president of the Ford Motor Company Fund and Community Services.
The centre is expected to open in October with more centres set to open in other countries.